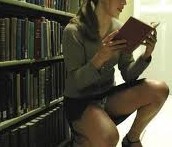 Grace Guerra is the brains behind Book Junkies Library, an online resource for indie authors and readers. I asked Grace when and how she first became interested in independent authors. She said, "That's like trying to remember becoming interested in breathing. After being frustrated with my favorite 'published' authors and their inability to keep my attention, I went looking for groups on Facebook that strictly dealt with books. I found the Book Junkies and joined, not knowing this group was made up of Indie (I had to look it up) authors and readers. The first book I read was not a recommendation from the group but the author was asking for reviews, so I thought what the heck…it's only 99 cents. It turned out the book was just this side of bad; I didn't leave a review, in case you're wondering. I decided to try again, the second book was not polished; there were many typos and grammar errors. But even unpolished, the story was a good one. Since I don't give up that easily, I tried again. The third book was one of the group's monthly reads…I fell in love with the characters, with the author and with Indies. I've became a beta reader for a couple of the authors and I'm proud to say I'm a full fledged Indie reader/stalker only."
Grace says her favorite part of reading indies listed at the Library is that she can email or send them  Facebook messages. She appreciates that Indie authors take the time to listen and communicate with their fans.
The Book Junkies Library seemed to evolve out of thin air and almost overnight, but Grace was doing all the heavy lifting.  It took two months to work out details and start the author setups. She says she originally was only trying to create a list of authors and books that needed reviews, for the Book Junkies' group members. Originally, the library was envisioned to be only for authors belonging to the Book Junkies Family, but it has grown to include all Indie authors.The project took off and has grown dramatically in just a few months, now including over 280 authors and more than 570 titles from which to choose. The library had its official grand opening  on August 1st. In a little over 3 months, the Library has had almost 6,400 visits.
Grace says the biggest challenge for her in setting up the site was deciding what kinds of information and functions were wanted. Finding the time to maintain and advertise the site is an ongoing challenge for Grace, who also has a full-time job and a very young son. To top it all off, she gets no financial benefit from it at all—she does it just because of her love and enthusiasm for indie authors and a desire to introduce new readers to the wonderful world of indies.
One of the often amusing and informative features of the library are the author interviews. Grace says, "I've read other interviews and I felt that…yeah, they can talk about their books and the 'why' to their book. BUT those interviews left out the 'person' behind the author. I wanted to feel that there was a real person behind this or that awesome book. I had other questions that I left out…too personal, I was told. I like to ask "what if" type questions…like 'what would you do if a vampire was chasing you' or like my question on the interview 'if I had an enemy…' I read through all the interviews before posting them and I feel, somehow, closer to the authors. Many of them made me laugh hard, some of them were more serious, but all of them revealed to me what their books alone can't…they are  REAL people. I feel these interviews help a reader put a face to the voice, or in our case, put a personality to a book."
Grace takes real pride in the library, and she loves continuing to meet and recruit new authors. She says, "The only problem I have is that my TBR list has grown to over 200 books and with new authors coming on board…The Library is my baby and I take pride in her and in the fact that I do what I do purely out of love…it's a free service. I've been advised to somehow make money from the site (because only an idiot does so much work for free), but if I did that, then the Library would be a job and I would quickly lose the passion I have now. So I will keep it a free site."
As the library grows, so do its capabilities and features. Grace added the Genre List and the Age Rating List and is now  working on adding a link to add to the author's page, which will allow readers to navigate back to the library in case they reached the page directly from an outside link. In the future, she may be adding a searchable database of all the books in the site, and may offer a page where authors can post book promotions, giveaways and special discounts.
One thing is for sure: Book Junkies Library came into being and is growing fast because of one deeply dedicated woman and her passion for indie authors. Kudos to you Grace!