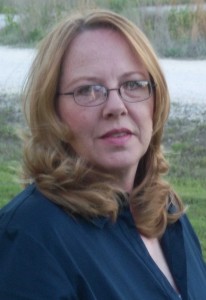 Author Cynthia Townley describes her writing style as fast-paced, and keeping to short, easy to read chapters. She says, "I like to keep the storyline moving forward by utilizing cliffhangers at the end of chapters, where possible – building toward suspense, and thus, inviting the reader to turn the page. I don't include a lot of 'fluff' but rather stick to the storyline. I want readers to have a 'can't put down' novel that both men and women enjoy. On several occasions, my writing style has been compared to James Patterson's novels, which I certainly take as a compliment."
Cynthia believes that what sets her crime fiction apart is that she incorporated psychics. The field is pretty crowded with mystery/crime novels, and detective novels, but Cynthia wanted a hook that would make hers unique.
She says, "I actually visited a psychic once, many years ago, out of curiosity. I didn't have an appointment, nor did I show any identification, but she knew I was born on Labor Day. That blew me away. One thing she said to me that I never forgot was that I would meet someone important to me with a birthday on September 15th. Fast-forward twenty-five years and my youngest son married a girl whose birthday is September 15th. True story!" I salute Cynthia's patience. I would have gone to get my money back after ten years. That's just how I roll.
Where do you find your inspiration?
Cynthia says her inspiration for her book Trained to Kill, and the upcoming sequel, Unsuspecting  comes from true crime stories. "Trained to Kill, although a work of fiction, is based in part on an actual event – with my imagination thrown into the story to make it more compelling. I follow news stories, and read articles from around the world, and find many ideas for novels. One thing there's no shortage of is crime. When I see or hear a good story, I jot down the information to research later."
Her series, starring Detective Oliver Rousseau takes place in New Orleans. Cynthia visited New Orleans years ago and says she found the city captivating. "There is so much history and culture there. During that vacation, a hurricane developed in the Gulf of Mexico – heading straight for New Orleans. I stood on a levy watching it swirling around in the Gulf, before I had to heed the mandatory evacuation. Needless to say, it was a memorable vacation and a fitting backdrop for my book."
Cynthia says building out real three-dimensional characters is the most intriguing and challenging part of story development. She doesn't feel the need to describe what they look like, or what they are wearing throughout the book, but focuses on constantly expanding on their personalities, and making them readily identifiable and relatable to readers. She says, "I spend a good amount of time creating realistic characters. One thing I enjoy when reading a series is being able to watch the characters develop through the author's eyes. My cops mimic real detectives, and my villains are based on real offenders. That's why I like writing about serial killers and spree killers. Their crimes are frightening and horrifying, not only to the public, but to the cops that catch them. A serial killer is not going to stop killing until he's caught. (Think Ted Bundy!) I work hard at capturing the fear and frustration the detectives live with on the job, while still trying to maintain a balanced family life. It's not easy for them, and it's not easy for me as a writer, but I put myself in their shoes…and inside the mind of a killer."
Cynthia's approach to marketing her work is something new to me and worthy of note. As she describes it, "I took a unique approach and spent one day contacting area high schools. I emailed them a copy of a coupon I created for fundraising. Simply stated: the high school (or local charity) can sell as many coupons as they can. I recommended a $5.00 donation and the coupons are sold by the students, to parents, at the beginning of home football games. The recipient of the donation can purchase my ebook TRAINED TO KILL for $.99, which normally sells for $2.99. My only involvement is setting up the discount code for my book and emailing one coupon to the schools to make copies. Here's my selling point. All earnings from the sale go directly to the school. Right now, they are selling car washes to raise money. The students are standing at busy intersections, distracting drivers by waving car wash signs. It's a much safer environment selling the coupons at the gate/door before sporting events and the students are on school property. To date, this has generated over 175 books sold and over $800 raised by area schools. The Vice Principal at one school told me they sold more coupons in thirty minutes, than car washes on a Saturday. Note: There is no downside. If the purchaser of the coupon, after reading my Synopsis, does not like my novel, they can give the coupon to someone who likes mysteries, and they've made a $5.00 donation to their child's school. It doesn't break the bank."
Cynthia also credits her book trailer with a significant increase in sales. "I had never heard of a book trailer, and admittedly, I am probably the only adult with a computer on the planet who has never logged onto YouTube. I researched book trailers and found it was not difficult to create one and it cost very little out of pocket. I only had to pay for the pictures and music, which cost about $30.00. I have gotten favorable reviews through email and Facebook on my 'Trained to Kill' book trailer, and within the last two months my book sales have doubled, and continue to rise. I can only attribute the rise in sales to the book trailer. Therefore, I would have to say the book trailer has been the best money-making investment I've made."
Cynthia estimates over 1,700 responses saying how much people liked her book trailer and couldn't wait to buy her book. "I only wish YouTube had a separate section for book trailers to make them easy to find. In addition, I think it would be beneficial to authors if we could add a book trailer link next to our online books, if the author chooses to do so. I believe Smashwords is the only one doing this," she adds.
Cynthia says that as a first-time author with only one book, she felt it was more important to become known to a reading audience than to make money from one book. She has approached military blogs and pages and offered her book free for thirty days. She says, "When my stepson's unit deployed, his instructor even announced my book being free to all soldiers and their families in front of an audience. While I had not expected that, I appreciated the support. The free book to military families has generated a good response with many emails asking when the next book is coming out. Many soldiers overseas have a lot of down time, and many of them take their Kindles and Nooks with them because they're easy to pack."
Cynthia says she doesn't read nearly as much as she did before she started writing. She doesn't care much though for labels. She makes it a point not to distinguish between Indie authors and other authors. "I don't care how writers get published only that it's a remarkable achievement that they do, and I for one, am grateful to the forward-thinkers and technology that has allowed so many talented writers to get published. There are tens of thousands of authors, but only a few hundred literary agents. Many of the books that are flooding the market today wouldn't be possible without self-publication and would be nothing more than query letters sitting in a slush pile."
A famous author at a book signing once told Cynthia to write about what she knows and loves. Cynthia thinks that advice may be outdated now. Her advice to aspiring authors is to do some research and to write what's selling. "Everywhere I look, I see cookbooks, memoirs, vampires, wizards, fantasy fiction, and paranormal books, which reflects strongly in television, and movies. I researched mystery, suspense, crime, and detective novels, and I wanted mine to be different from every book on the market, which is another reason I used psychics in my book."
Cynthia also emphasizes that an attractive, professional-looking book cover and a great story is key to selling books. "I knew my book was good when it received applause from various book clubs prior to publication, so I put my money into creating a cover that attracts reader's attention. I don't focus on sales; I focus on my writing. When I receive emails asking when the next book is coming out it motivates me to continue writing. While I appreciate and cherish the advice and camaraderie with fellow authors, I believe success comes when we have developed a following and can connect with our readers," she says.
Cynthia's currently available novel is Trained to Kill – A Detective Oliver Rousseau Novel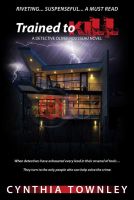 When detectives have exhausted every lead in their arsenal of tools, they turn to the only people who can help solve the crime.
Seasoned Detectives Oliver Rousseau and Jack Deveraux of the New Orleans PD are stumped when a sophisticated killer evades suspicion as police quickly run out of leads on the murder of a prominent doctor's wife.
When an employee at the Criminal Courthouse fails to show up for work, police are dispatched to her residence, just houses from the murdered doctor's wife to discover she has been killed with the same M.O. – a single gunshot to the head.
With the clock ticking, Oliver resorts to unorthodox methods and enlists the aid of his beautiful wife Marin, and her twin sister Megan – who hold the clues and a carefully guarded secret of the affluent Carrington women – their psychic ability that allows them to identify the killer.
But, when the suspect terrorizes Oliver's family and one of them is shot, the case explodes as Oliver and Jack go on the hunt for a sniper TRAINED TO KILL.
Trained to Kill is available from Amazon US, Amazon UK, Barnes and Noble and Smashwords.
Also available by Cynthia Townley:
How To Publish An Ebook In 5 Days: This is a 54-page manual, which serves two distinct purposes. First, it's a "tell all" that is essential for first-time authors who need to know how to get their book published, and second, what published authors want to know who are dissatisfied with their past book publishing experience.
And . . . Coming Soon!
Unsuspecting – A Detective Oliver Rousseau Novel – (#2 in the series)
Do you think your daughter is safe at school? A serial killer who has eluded police for years is back, and a co-eds brutal murder leaves New Orleans gripped with fear and a killer who could be anyone.
You can find crime novelist Cynthia Townley on Facebook.