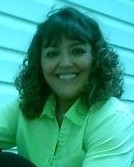 Lisa Vandiver sees herself as a story-teller with a simple and to-the-point style. If the reader has to continually stop reading to go look up words, the author has unwittingly detracted from the flow and pace of the story.
She says, "I've been criticized for using simple descriptive words and I've been praised for using them. . . I do broaden my language and descriptions in various forms, but, I feel that most readers want to read an entertaining novel for pleasure, not to see how many 'fancy' descriptive words the Author knows."
Lisa finds inspiration everywhere and all the time—and she doesn't take time off during sleep. She has awakened in the middle of the night from a dream and gets out of bed to jot the dream down so she can go back and expand on it later. She also comes up with stories just from looking at pictures.  "For example, I recently decided to change out the book cover for my second novel so as I started looking at photos of the model, I actually have come up with a new story for the photo," she says. Yeah, that happens to me a lot when I (ahem) look at photos of "models."
Lisa has used Beta readers and likes them. "The problem is getting them to read in an allotted time, or finding someone who will be reliable. I'm not sure—I'm still out on that. I know that I like the idea of having someone giving me input."
In marketing, Lisa has used bookmarks, t-shirts, and business cards, but hasn't seen much return on that. She also uses all the conventional social media, but recently hit upon the idea of using well-known models for her covers. She sold four books the night she announced she was featuring a well-known model on the cover of Josie's Thorn.  She also offer coupons for discounts, and reports that has moved a few books as well. She says she does plan on creating a new YouTube video for her novels.
Lisa has read a lot of indie authors and has a lot in her TBR list, but says  Shaun Allan's Sin and Brian Pratt's The Morycth Saga are among her favorites thus far.
Lisa advises aspiring authors that this is a tough road to travel, but not to give up. "I came into this business thinking that people were going to gobble up my book simply because I loved it, but that doesn't mean anything to readers. After you've written it, read through it, cut and edit it, cut it again. Have fresh eyes to look it over and then read through it again. Having a professional editor is the ideal way but sometimes, authors can't do that so if you are going to self-edit, don't be afraid to take criticism and suggestions, and cut it several times if needed. Don't be in a hurry to get it out there. It should be top quality or the readers will let you know it's not by ignoring it or tearing you to shreds. It's all about promotions, and getting your name out there. 'It's not how many people you know, it's how many people know you.' Quote from Romance bookcover model, Jimmy Thomas." Here we are talking about this male model again. Really. What has this guy got that I don't? Shut up!
Lisa says, "I have met some wonderful people through my journey as a self-published author, and am looking forward to meeting many more and writing more novels in the future. I've grown as an author and a writer in the last five years since I've started doing this professionally, and I'm just now starting to have fun! I have made some really huge mistakes but none that I can't recover from. I am now taking my time and writing the novel, and am taking my time in editing them and won't from this point on, release anything that I don't feel is market ready. I have learned so much and am excited about my future as an Indie Author."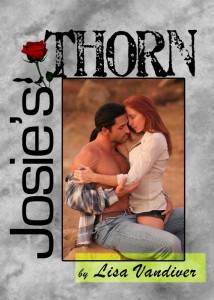 Here is Josie's Thorn (complete with male model on cover):
Josephina McCrea plans to come to Utah for her parent's memorial service, and then return to New York; but her plans are about to be changed, she just doesn't know it yet…
This intriguing romantic drama is laced with lies and deceit, sensual play between Jacob Rainthorn and Josephina McCrea who after four years, meet again. Each are troubled by memories of their past together as they face unknown, deadly enemies.
As the mystery develops, so does their heated desire for one another as they battle unknown enemies who uses sabotage against the ranch, and deadly attacks against Josephina and Jacob becomes her hero. Can they find love again? Or will their secrets destroy that chance? Is Jacob Rainthorn destined to be forever a thorn in her heart?
Josie's Thorn is faring well with readers. Lisa reports, "I have four and a half stars at Smashwords and five I believe at Amazon. I have since revised the book and cut it down a bit so now an already good novel is an even better novel."
Lisa Vandiver's novel Josie's Thorn is available from Amazon and Smashwords. And if you are a male model who would like to talk to Lisa about future book covers, or just a reader who'd like to know more, you can check out her regular blog or Imagination Alley. You can find her author page on Facebook, follow her on Twitter, Google Plus,  and even on MySpace.