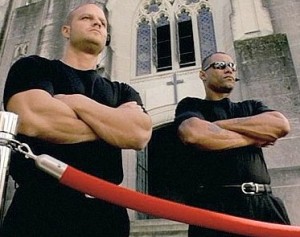 There are and have long been exclusive clubs. Some exert their exclusivity through means of social status or wealth. That's why Cousin Eddie won't be seen golfing at Snobmore Country Club. Others use the velvet rope and a bouncer who makes the individual decision as to whether someone is cool enough to get in. Often, the decisions of the bouncer seem enigmatic, capricious, and objectionable to those on the wrong side of the velvet rope.
That model of exclusivity is the one used (or perhaps imposed) by the traditional publishing industry. Their idea being to preserve the integrity of the written word by selectively choosing those who would produce the written word. What a great idea. I wonder how that worked out.
Now that whole system is in disarray and scrambling for its very survival. A part of this great indie revolution is that writers who were once shunned and rebuffed by the old-guard gatekeepers for traditional publishing now have the opportunity to put their work directly before readers with no intermediary. The velvet rope is essentially gone.
Traditional publishers of course bemoan the lack of quality control in such a system. Some in the indie community express concern as well. The freedom of the indie movement, and the absence of the velvet rope, has allowed some work of strikingly poor quality to reach the public's eyes. Some indies fear, and most traditional publishers hope, that readers will paint all indies with the same broad brush based on these flawed works. Anecdote suggests some readers do just that. But anecdote is not data.
Freedom entails some amount of chaos. Order requires tyranny. The ultimate irony of the supposed order of tyranny though is that the trains still do not run on time. All the awful sins of typos, spelling errors, word misusage and poor grammar the traditional publishers use to impugn indie writers are sins of which they themselves were guilty. The "Big Six" did not keep bad books off the market, they just made sure the bad books cost readers more.
After the fall of communism in Eastern Europe, there were and still are those who are confused and frustrated with the chaos of freedom and nostalgically idealize the sense that at least somebody was in control in the old order.
Just so, there are some within the indie community who did not mind the idea of the velvet rope – they just thought they were placed on the wrong side of it. They feel what is really needed is a new velvet rope that would include them and perhaps a few other worthies among the chosen and somehow set their exemplary works apart from that of the riff-raff. Work is already in progress in some reaches of the indie community to establish a means of judging "quality" indie writing and to establish an imprimatur that will separate that which is adjudged good and proper from the rest. A new velvet rope. What a great idea. I wonder how that will work out.
It just may be that what the old-line publishers (and even some in the indie community) perceive as weakness is actually a strength.
The old model was exclusive. That means that some people who should have had the opportunity to be published were not, because the system was designed not to seek out the "talented," but to keep out the "untalented." If a few worthies were overlooked or fell by the wayside, so what? Let them eat cake.
The indie movement is inclusive. That means some people who produced really inferior books are published right alongside everyone else. It also means that absolutely everyone who should be published is published. No one is left behind.
There are indie writers who fear their own glistening diamonds may be too hard for readers to find among the truckloads of coal produced by others. While being one among millions may make it harder to find your magnum opus than if it were one among mere thousands, perhaps blaming the numbers is to seize upon flimsy pretext. If every book produced by every indie author were stellar, your stellar book would still be one among millions. To complain about the numbers belies an underlying urge to simplify the problem by eliminating some choices. It reveals a prejudice against readers, a belief that they cannot be relied upon to properly choose what they should read. Ultimately, it is an accord with the paradigm of the velvet rope.
Is it not just as likely that to the extent our books have any difficulty finding their ways into the hands of readers the difficulty is attributable to the lack of a comprehensive and concentrated marketing strategy? Is this not one of the principal advantages that the old-line publishers purported to offer?
Rather than floundering in a sea of books, perhaps we are floundering in a sea of social media, treading water while we wait for the rescue boat of well-deserved fame to save us from drowning in obscurity. Waiting to be rescued is a passive strategy. Let's be active. Instead of concentrating our energies on re-creating new, improved models of failed approaches, let us move to develop new and innovative marketing strategies to help connect readers with the amazing array of talent in the indie community. Then relax and let the readers choose. The market will adjust organically without artificial and external interference, and writers who do not produce quality work simply will not prosper – no velvet ropes needed.