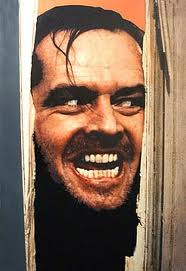 The majority of my writing is pretty dark. My short stories are psychologically dark, not so much violent. Joe Café, my first novel, is probably the darkest thing I've written and it is violent. I've been thinking about this lately because I get, 'dear GOD!, how do you think those horrible things?' responses from people on occasion. I've probably talked about this before. I don't care. I've been writing freelance marketing stuff all morning and I have ceased to care about anything except training my stupid, hateful, ignorant, ugly freaking fingers to insert only one space after a period. This goes against 18 years of writing habit. But that's the way it's gotta be. Even here, Hise won't let me out of the box if I don't do it. But I suppress, I want to talk about the sick, vicious, blood-drenched, soul-crushing things that exist in my mind.
It's funny. I can't watch horror movies. I can't stand gore. In third grade, we watched a video on skin grafts (WTF?). I had to be sent home with a fever and light-headedness. I was better in fifteen minutes when I got home. My wife has horrible nightmares. Dreams where she hacks people apart with axes and chainsaws. And she is the sweetest person I know. I have dreams about my sixth grade teacher, my friend Toby, and the cast of Cats playing touch football in a bowling alley. The scariest dream I have had in as long as I can remember – in all honesty – is one I had the other night where I was shopping for clothes with Justin Timberlake.
I don't watch the news. It depresses the everloving hell out of me. But I'll read Cormac McCarthy while I eat breakfast. I'll write a story about the agony of methamphetamine withdrawal that touches on the darkest human emotions I can possibly fathom – the worst things I have ever felt about myself. There are scenes in Joe Café that made my wife think separate beds might be a good idea. I can write about a drunken sociopath carving the internal organs out of a nun without batting an eye. I tried to watch A Nightmare on Elm Street once and I wouldn't sleep without a stuffed animal in my bed for weeks.  I was 12.
It's a weird thing. I am a pretty nice person. I don't like violence. I know that terrible, terrible things happen in the world, but I read an article about African genocide one time where the reporter talked about watching yellow, baby chicks pecking at the corpse of a small child. I still want to shriek, move to a cabin in the woods, paint all the walls baby blue and hook myself up to a valium drip every time I think about it. But I KNOW that people read Joe Café and think, 'that Mader guy is one sick, depraved individual'.
This has nothing to do with whether the book is "good".  If you like dark FICTION like I do, then you'd probably like it. If you are my mom (who has been forbidden from reading it), you would probably cry for a while and then spend the rest of your life figuring out where you went wrong. Didn't I breast feed long enough?!?! (Well, you're not my Mom – except if my Mom is reading this (hi!), but you get the idea.)
Here's the thing. I have said it a million times. I will say it a million more. I will say it until you hate me and want bad things to happen to me. Fiction has to be honest. And the fact of the matter is that Jeffrey Dahmer was a real person. He did absurdly horrible things. It sickens me to the core to think about it. But I could write a story about a psychopathic serial killer doing the same things without batting an eyelash. And I can make that shit seem REAL. I'm not quite sure why.
DV Berkom wrote a great piece recently about the difficulty of getting inside the mind of her psychopath. That is part of what got me thinking about this. Heck, I enjoyed writing the graphic scenes in Joe Café. Not enjoyed in a 'got off on it' kind of way. But it was fun to take my brain to a place that it usually refuses to venture. What does that say about me? Hell if I know.
When I was a younger and less physically attractive writer, I had real issues with this. I'd write a story about a coke addict and worry if the character was too realistic…what would people infer? I wrote about the depraved, evil, horrible things my characters did and cowered, waiting for all my loved ones to decide I was fit to be committed.
It's still something I trip out about sometimes. I recently reconnected with a bunch of my old students on facebook. I was writing Joe Café when I was teaching writing workshops…they were fifteen or sixteen then. They are adults now. They used to ask about the novel I was working on and I would give very evasive answers. Now, they are going to read it and see how &*$#ed in the head their teacher really was.
But that's the moral to the story. I'm not crazy. Well, yes I am, but I'm an amusing kind of cuddly, OCD crazy. I don't know why it doesn't bother me to write about the most horrible experiences of my life. I don't know why it doesn't bother me to write about rape, murder, bad acid trips, or anthropomorphized manifestations of my darkest fears. Steven King doesn't think about these things. Does he? God, I hope he doesn't. He has piles of money he should be rolling around in (or sending to less well known authors) (jackass).
I guess what I am trying to say is that I learned a long time ago that you can be a writer who hedges his bets, or you can be a writer who lays it all out there in it's gory, dope-sick, depraved, erotic beauty. I have chosen to be the latter.
There are several 'secret' little groups of writers on facebook that I riff with.  Some of them write for this site. And when we are tired and have spent 10 hours writing we come up with some of the most delightfully depraved, offensive, disgusting, and outright immoral things you could possibly imagine (you probably can't imagine). Things that even I won't put in my writing. Things that have me laughing and cringing for days. Maybe someday I will drop that final barrier. Maybe they will, too. I hope so. Because it is entertaining as all hell.
*     *     *     *     *
JD Mader is a Contributing Author for Indies Unlimited and author of the novels JOE CAFÉ and THE BIKER. For more information, please see the IU Bio page and his blog:www.jdmader.com.
[subscribe2]