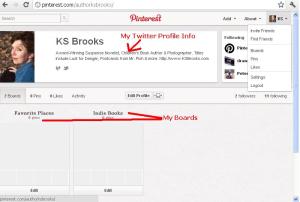 A few Wednesdays ago, our Valerie Douglas told you about Pinterest. If you missed it, you can read her article here.
Frankly, I don't find Pinterest easy to use. Maybe it's just one of those things I need to acclimate to and over time, it will become second nature. I can't be sure yet. In any case, for me, I plan on using Pinterest for book promotion, and for getting my fellow Indie Authors' books a little exposure as well.  Here's how you can do that, too.
Once you've got a Pinterest account (if you don't, you may have to have someone invite you), log in. Make sure to set up your profile. If you're using Twitter to link to Pinterest, make sure you've formatted your Twitter profile using the tutorial methods here.  Setting up your boards is pretty easy. In the upper right-hand corner, go to Add, then from the drop down window, click on create a board. Name it and click create board. Done. I have two boards right now, which you can see in the photo above. They're empty. I chose two topics I know about – Indie Authors and Travel.
Before we start pinning stuff – be aware – there are copyright issues at large here. If you post a photo you do NOT have permission to use – you may get sued. That's why I chose two topics where I could supply either my own photos or public domain images.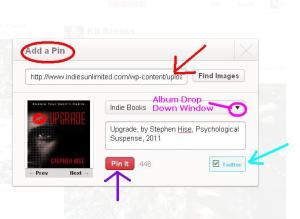 Now, to pinning. Click on Add, then Pin. You can choose to upload from your own computer, which I did for my book covers because that was faster for me. You can also upload via URL. I found the ONLY way to do this successfully was to literally get the exact URL for the image (by right clicking on it) and paste it into the window. Then I clicked 'find images.' This window (depicted to the right) gives you the ability to choose which album the photos go into – or it allows you to create a new album. You also have the option to tweet whatever you pin by checking the box next to Twitter (aqua arrow). Pretty convenient. What's not really convenient is if you want to change the order of your pins. You need to actually edit the photo and "repin" it. Then, you'll have two – and if you don't want two, you'll need to delete the old one.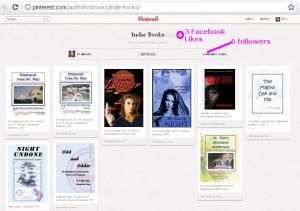 When you're done, you'll have bulletin boards loaded with photos and descriptions. Since Pinterest is the new "hot" thing, and it's free, it can't hurt. Miraculously, my Indie Book board already has 6 followers and three likes on Facebook.  I have no clue how that happened. It's just proof, however, that Pinterest is another way to get your books in the public eye. I still don't know my way around it very well, and I'm not sure I ever will. But at least my books are up there for others to find. Make sure to set your bulletin boards up today – because tomorrow we're going to have a Pinterest Like-fest!
*     *     *     *     *
K.S. Brooks is an award-winning author and photographer, and Co-Administrator of Indies Unlimited. For more information, please see the IU Bio page and her web site: http://www.ksbrooks.com/[subscribe2]