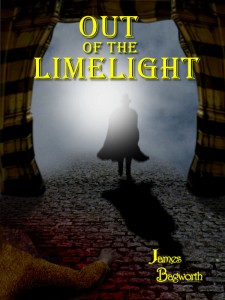 Today we have a sneak peek of James Bagworth's historical murder mystery, Out of the Limelight.
In the bawdy world of 19th century Music Hall, comedians Farrow and Flint find themselves accused of murder. Their struggle to clear their name leads them into a dark world, far from the bright lights of theatre, crossing paths with conspirators, murderers and lovers, and finally leading them to a chilling discovery in the depths of Victorian London.
This is a novel for readers who like their murders lightened with humour; for fans of Sherlock Holmes, Midsomer Murders, New Tricks or Frost.
Out of the Limelight is available for purchase on Amazon.com and Amazon UK.
And now, from Out of the Limelight:
"The cab… Where's the cab?"
The stage doorkeeper, George, ambled up behind them. "Sorry gents," he said, "I let Miss du Laix have it…"
Flint stared at him in disbelief. "You did what?"
"It was an emergency."
"Annelise?" Farrow looked concerned. "What's wrong with her?"
"Bit poorly… Spewing her guts up she was. Luckily there was some doctor chappy in the house, took her back to his surgery…"
"Never mind that," Flint snapped. "How are we going to get to the Gilmore?"
"There'll be another cab along in a minute, I'm sure," said George, returning to his station. "Not as though it's the only one in the city."
Flint peered down the empty street. This was his worst nightmare. How long could they wait, hoping a cab would pass by?
It was Farrow who decided. "Oh well," he said with a shrug, "not far to walk… well, run…"
Flint felt as though the night itself was closing in on him. He tried to conceal his shaking hand as he looked in the direction of the Gilmore. No one knew the real reason he insisted on the nightly cabs. It had nothing to do with presenting an image, or even inherent laziness. It was irrational, it was stupid, and he was ashamed. He was afraid of the dark.
Oblivious to his partner's discomfort, Farrow led the way down a couple of narrow backstreets then out onto the canal towpath – a shortcut, he assured Flint. His pace was steady, little more than a trot, but even so, it was only a few minutes before Flint was forced to draw to a halt. He leant up against a high embankment wall, breathless, aching, and filled with a sense of injustice at Farrow's superior stamina.
"I'll more than likely have a heart attack after this," he moaned, expecting sympathy, and receiving none. He checked his pulse for good measure. At least it took his mind off the ghostly shadows all around.
Farrow ignored him, and picked up a handful of lilies that were strewn across the towpath.
"You try and get laughs with a corpse as a partner," Flint persisted.
Farrow threaded one of the flowers through his buttonhole. "We really should get a move on," he said, "You know what'll happen if we're late – they'll stretch the midget."
Flint groaned. Marcus the Midget's readings from Shakespeare could move an audience to tears – a major dramatic achievement, but death as a preliminary to comedy.
"Besides which," said Farrow, as something wet splashed on the bridge of his nose. "I think it's starting to rain."
Flint gazed at the dark path ahead and forced his legs into action, running with his head down, eyes focussed on his feet. Farrow smiled to himself then, feeling another splash on his face, set off after him, completely unaware that above the very spot where he had stood was a limp arm, dripping blood.[subscribe2]