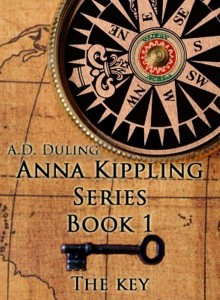 Today we have a sneak peek from A. D. Duling's young adult epic fantasy, The Key:
Anna Kippling has found a skeleton key that ironically only opens one door and from the wrong side. On the other side awaits a world called Tatania. There Anna finds herself in battle with an evil Chancellor and also finds love in a grey eyed, blonde hunk named Hayden.
Anna also finds herself fighting abnormally large birds, hiding in the trunk of trees, eating magical beads, saving an Empress,defying death and so much more… all with just a necklace of invisibility, a time turning bracelet and a dagger. Even with a newly acquired book of answers, nothing is every simple here for Anna Kippling, but Anna is slowly learning nothing is impossible, not even for her.
How far would you go to reach your potential? How much would you sacrifice for love? And is it possible to outwit death?
The Key is available on Amazon.com  and Amazon UK.
And now, from The Key:
She licked her lips and swallowed the lump down her parched throat; her mouth had suddenly become dry. She wanted to proceed… yet she couldn't. A battle had now emerged inside her head between the newly felt fear and strong holding curiosity that she could not be rid of.
Finally….what seemed like eternity, the seventeen year old did what any average teenager would do… she followed her curiosity.
Anna turned the knob and pushed open the door, allowing it to slowly swing open. She hesitated in the doorway and looked around, across from her sat the trunk with its lock still lying next to it on the floor, where she had left it. She bravely crossed the threshold and walked over to it. She lifted its heavy lid and picked up the top journal and flipped through its pages. Every entry she had read was still there.
It really could have been just a story… and she really, really hoped it was. But with what she read and even more what she saw on the other side of the door; proving that would be difficult.
Anna knew the only way she was going to find out if this was real or not, was by opening that door again. She placed the journal back into the trunk and picked up the wadded handkerchief holding the jewelry. She pulled them out and put them on. Anna wished dearly her grandmother was here to explain all this as she stared at the door. Her hand went up and touched her grandmother's necklace, drawing strength from it. With heavy feet, Anna walked over and closed the door.
Heart beating hard in her chest, Anna then tested the knob; it was locked. She pulled her key out and inserted it into the lock and turned. When she heard the click, she pulled it out and stuffed it down deep into her pants pocket. She then reached her trembling hand out and grabbed the door knob. The knob turned with ease and she opened the door. Just like she saw the other day, a forest stood waiting on the other side.
Cautiously she stepped to the edge of the doorframe and reached her arm out. It went through easily, as if stretching it out into another room. She then reached over and touched the nearest branch; the thin branch moved under her touch indicating it was real.
Anna scanned the forest as far as she could see and found no sight of anything. Nothing about it appeared threatening; instead looked very pleasant and inviting. However, just for safe measure, she returned to the trunk and grabbed the dagger. She stuffed it into the waistband of her pants and returned to the doorway.
Anna cautiously stepped through; intrigued by the transition between the wood floor and dirt ground.
[subscribe2]