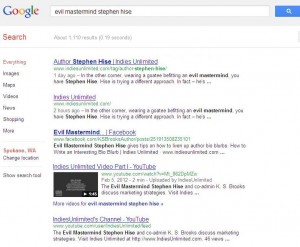 You don't have to be an Evil Mastermind to take advantage of Search Engine Optimization tools (SEO) for your blog. In fact, you don't have to be a mastermind at all.
While this tutorial targets WordPress blogs, the same philosophies apply to tagging and SEO for all blogs. How do I know this, you ask? As much as I hate to admit it, it's because back in my previous life, I worked as Director of Operations for a Search Engine Positioning company in Boston.
If you haven't read it, please check out Jen Smith's post about getting Better Google Search Results Using SEO here. Jen provides a great introduction to the basics of Search Engine Optimization.  She also explains (in Part Two) about downloading the SEO Plug-in for WordPress.  If you haven't done that, you can download the free plug-in here.
Now I know all this is a lot of reading, so I'll be succinct.  Download the plug-in for WordPress if you're not already using it. Once you've got it installed, there are three easy steps you need to follow each time you post.  They'll soon become habit, and you'll hardly think anything at all of doing them.
You can find the SEO Plug-in beneath the body of your post. The one we use here at Indies Unlimited is called "All in One SEO Pack." The purpose of the plug-in is two-fold. Firstly, this makes your post more searchable and findable in the search engines. The other benefit is that when you use the share buttons on the toolbar on your post (once it's live), the description automatically comes up. It looks much nicer, and is far more convenient than have to type it in manually every time – and it will show up in a consistent manner each time someone else shares it as well. It gives you much more control over how your article is represented.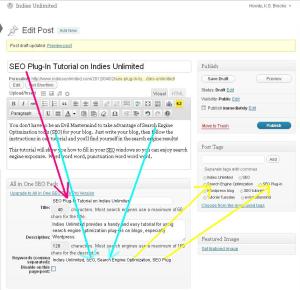 There are three sections for you to fill in. Most of this will involve simple copy and paste, as illustrated in the diagram to the left. First, just copy and paste the title of your post into the Title blank. You should always make sure your title contains keywords pertinent to the subject of the post. In the next blank space, enter a brief description about the content of your post, again – using keywords contained in the post.  Lastly, here's where you enter the keywords which you HOPE people will search on to find your article. These keywords should appear somewhere in your post. Having keywords in your title, the body of your post, and in the SEO plug-in determine the keyword "weight" – and the heavier the better without being ridiculous. Always make sure to include the name of your blog, and your name, too. Now, while we know that many attractive women are searching on "Stephen Hise goatee" – it's really not acceptable to throw that into the keywords just to get visibility – unless, of course, that is what your post is about.
To make matters even easier, I just copy the keywords I entered into the keyword section and paste them into the "Post Tags" window to the right. Then click Add. (On a small blog, you can leave them all the keywords in as tags. But on a larger blog with a *lot* of articles – like IU – I tend to cull out the more specialized phrases.) That makes those words searchable within your blog.
It's all pretty easy, only takes a moment, and now you're searchable. Again, this is step-by-step for WordPress blogs with the plug-in. If you're using Blogger, you can use the same philosophy in writing your posts so the keyword weight is what you'd like, and don't forget to enter those keywords in your "labels" section.
Now spiffy up your blogs, because tomorrow we're going to have a blog like-fest.  Get your SEO goggles on, and get found!