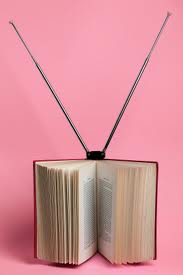 The emergence of e-books and the resultant boom in self-publishing has changed the writing world. Some think this is a change for the better. Some worse. I am not really interested in getting into that right now. What I am curious about, and what no one seems to talk about, is the change it has had on the reading world.
When I was young, books were my salvation. I needed escape and books were there for me. I read them…don't think I ever stopped mid-book…even if they were not that great. It didn't matter. Once I had started a book, I felt compelled to finish it. I folded down the corners of my favorite pages. I wrote things in the margins. I drew pictures of birds (I was a bird freak). I made the books mine. To this day, the first thing I do with any book I get is write my name in it. It is mine. And I make it mine by the song lyrics I write on the blank pages, the passages I underline, etc.
The Indie publishing revolution and e-readers have certainly changed what it means to be a writer. But they have also changed what it means to be a reader. Sure, you can underline and mark passages in a Kindle, but I don't ever do it. And there is a sterility there that I can't deny. But I am still the same type of reader for the most part. Those coming of age with this technology…they read differently.
For one thing, it is easy to delete a book, download a new book, try a few pages, erase it, download a new book…all for free. When you checked a book out of the library or bought a book, you had a tangible 'thing' which you had made some sort of commitment to. Not so with my Kindle. It always looks the same no matter what book I'm reading.  I always use the same font, and I always keep it the same size.
I think people expect less from books, now. There are so many free books available.  Or .99 cent books.  $1.99 – you get my drift, that they become an easily disposable commodity. Both my novels are priced at $.3.99. They are both worth more than that, but the market dictates the price and readers seem  more willing to read a book that is not as good, but is free.
It occurred to me the other day that we are making books a whole lot more like TV. People flip the channel. They surf and watch one show until it gets boring and then move on to the next one. For those with an e-reader, books are becoming cheap and easy entertainment. Reading is less intimate.
A reviewer on Amazon had this to say about my latest novel, The Biker: "I have to hand it to the author: the Biker is a really good read–the type of read that will probably come to define the epub era." I am not sure quite how to take this. Is this a compliment? Part of me likes that we have opened the doors for everyone who wants to write a book. A big part of me laments that I am quite likely a member of the last generation who will tackle a book like The Count of Monte Cristo. It is a wonderful book. One of the best ever written. The first 50 pages or so are misery. It is confusing, the names are similar; if it was on my Kindle, I might just move on and never look back. When I had the huge paperback in hand, there was something compelling me forward and I made it past the beginning until it got REALLY good.
A new type of writer is emerging. Don't kid yourself, however, readers are changing, too. I would like to think it is for the better, since change is inevitable, but I fear it is not. I have to wonder how Mark Twain would wrap this post up. Inevitably, he would say something pithy and witty and memorable. But I don't think people are all that big on memorable these days. So, I'll end it like this. Writers and readers are changing. And I wish they weren't.
*     *     *     *     *
JD Mader is a Contributing Author for Indies Unlimited and author of the novels JOE CAFÉ and THE BIKER. For more information, please see the IU Bio page and his blog:www.jdmader.com (and musical nonsense here: JD Mader).
[subscribe2]