Our L.A. Lewandowski is taking the week off to finish her new manuscript. So here is an audience favorite to satisfy your L.A.L. jonesing for this week:  Gender Bender.
And now for something completely different.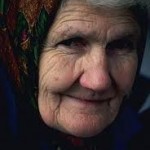 Am I really who I say I am? None of you have ever met me. Am I a creation of my own making, a project of my inner Pygmalion? Is the face that smiles back at you me, or am I actually an eighty year old Polish woman wearing a babushka smelling invitingly of stuffed cabbage and pierogi? Admit it, you can't really be sure.
Or can you? There is one thing for certain, my friends, I write like a girl. The color of my cocktail seeps through the pages, pooling into a pretty, pink puddle. It's delicious, I must admit. I am not able to feel like a man, and I have never wanted to be one. There is only one exception – a cameo as a big, burly hockey player, smashing opponents into the boards and scoring the winning goal. But I digress.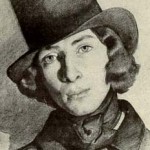 A heroine of mine, the writer George Sand, was a true gender bender. Born Aurore Dupin, George Sand refused to be constrained by the traditional roles of the women of her day, roles defined by family and marital duty. Her decision to write under a pseudonym, and to dress as a man was scandalous, to say the least. She never pretended to actually be a man, but used her cross-dressing as a tactic to confuse the status quo, and gain entry to clubs reserved for men. Moreover, she endeavored through her characters to cast light on the capabilities of women, their critical role in French society. She also managed to pay her own bills.
Why should you care?
Recently on the LinkedIn thread I became aware of a story regarding Rutger Hauer, Roy Batty of the cult classic Blade Runner. A fellow writer had submitted the short story to a contest sponsored by Hauer, and had been offered a place in the anthology. The catch? The writer would have to give up all rights to the story. In the end the writer decided, for those reasons, not to allow the story to be included, thus pissing off Roy Batty. A bold and dangerous move.
I had to read this story. I have seen Blade Runner many times, and if Hauer wanted it, then it must be good. So I contacted the author, addressing him as a he. JZ graciously sent me the story, and another as well.
'Poor Lord Ritchie' is exactly the kind of mind game some of the dark writers of this site would delight in reading. I had to read it twice, and some things still escaped my understanding.  Certainly, this story was written by a man. 'The Fall', an extra short story that JZ sent, was completely different. This had to have been written by a woman.  I found myself in a conundrum. Was this writer a man or a woman? The last time I had questioned the sex of a novelist was after reading 'She's Come Undone' by Wally Lamb, and 'Memoirs of a Geisha' by Arthur Golden. In both cases the authors, men, wrote with the psyche and emotional introspection of women.
I went back to the LinkedIn thread, looking for the answer. Had he not said something to reveal his sexual identity? All I could find was the avatar of JZ Murdoch, a smiling, golden Buddha in repose, calmly observing my confusion. There was no proof anywhere to confirm my initial assumption.
As I write this I have asked JZ not to tell me the answer. I am both amazed and impressed that two short stories can be written from such different sexual identities, certainly the mark of a strong writer.
Did JZ conceal his or her sex on purpose? Is the smiling Buddha a brilliant ploy to remain gender neutral and to let the strength of the work shine through? Perhaps. My hope is that the author is finally ready to release what Roy Batty wanted. Thank you for letting me read it.
Want to know more about JZ Murdock? He, or she, was interviewed just yesterday here on Indies Unlimited. We look forward to having L.A.L. back again next week!
*     *     *     *     *
L. A. Lewandowski is a Contributing Author for Indies Unlimited and author of the novel, Born To Die – The Montauk Murders. For more information, please see the IU Bio Page and her blog:cultureandcuisineclub.com.[subscribe2]