Okay, I've seen this post a hundred times and I always said, "It'll never happen to me." Well, it did. What a feeling … and it is not good.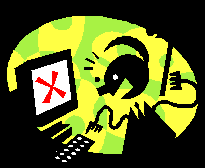 The computer glowed as I headed out to do some stuff. As usual, I waved goodbye to my electronic friend and off I went. Meanwhile, while I was out enjoying a Friday afternoon in Coral Gables, meeting a friend for happy hour, my computer decides to have its own kind of happy hour.
On arrival back at the homestead, I saw the blinking cursor in the upper left hand corner. Ah—no problem, I thought. This has happened to me a million times. Punching the button, I sat back, waiting for the monster to awaken from its sleep. Nothing—after a few minutes, all I saw was a black screen with that damned cursor blinking at me from the upper left hand corner.
The images flew through my mind—the documents that I worked on this afternoon, the pictures I downloaded just last night.
After trying multiple times, I realized this might be the real death star. I had the same feeling when my Xbox 360 gave me the red ring of death.
Only this time, it was different. I had to upload a presentation for a paying gig, a half-day workshop at a conference … deadline today. I thought about my WIP. Sure, I saved it to the laptop and thumb drive—TWO WEEKS AGO. Why do I go along every day without backing up.  AAAHHHHH.
The panic set in. I restarted at least four times. Nothing.
After a deep breath, I restarted and the familiar, F2 …  F12, flashed at me. I randomly hit the F12 key and it gave me some options in on old DOS language that I hardly knew. I clicked the cursor at anything that would accept it.
With a grumble in its gut, my old electronic friend coughed and sputtered. The evil empire logo blasted on to the screen. I knew I was home free.
Spending the rest of the night saving everything to thumb drives; I realized that I'm just as susceptible to a computer crash as anyone. Thank goodness, it didn't happen this time, but I'm sure it has happened to some of you out there.
It's a lesson, I know. One day I might actually learn it. Back up your files. Save things to the Cloud. Whatever you do, don't make the same mistake that I did. Oh, and if you are wondering why my post is a little lite this week, well, now you know why.
If it's happened to you, share your experience in the comments section, I'd love to hear what and how you handled the situation—and, do you back up now?
 *     *     *     *     *
Jim Devitt is a Contributing Author for Indies Unlimited and the author of the #1 Kindle Bestselling novel, THE CARD, For more information, please see the IU bio page or his blog:  http://jimdevitt.blogspot.com/
[subscribe2]