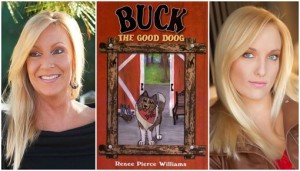 Author Renee Pierce-Williams is pleased to announce the release of her new book, Buck, the Good Doog. The book was illustrated by her daughter Shelby Renee Williams.
Renee says, "Shelby brings Buck the Good Doog to life with her love for animals and her artistic ability. Each image in the book is hand painted. There are no computer-generated illustrations. Because Shelby grew up knowing and loving Buck, she was the obvious choice to be the illustrator for this book. No one else could have painted a more accurate depiction of the main character. As a writer and her mother, I am truly honored to have worked with her on this project."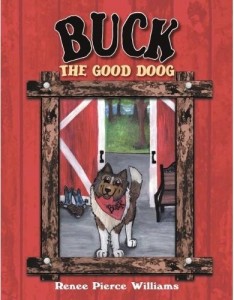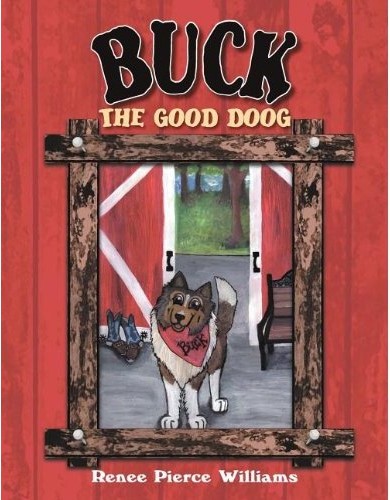 Buck the Good Doog, by Renee Pierce Williams, illustrated by Shelby Renee Williams
Are you ready to embark on a fun adventure with an endearing dog? Witness how an eight-week old collie pup gets adopted and becomes a loyal herd dog. This mother-daughter collaboration details the life of their beloved dog, Buck.
Sending a valuable message about love for animals, Buck the Good Doog is a must-read that allows children to explore both the beauty and responsibility of owning man's best friend. The word "doog" is not a typo. You will have to read the book to find out why it becomes a part of his name!
Buck the Good Doog is based on a true story about a beloved collie growing up on a farm. With hand-painted illustrations by the author's daughter, children will learn about the collie's breed instincts and their unwavering loyalty.
This book is a perfect choice for children and animal lovers at any age.
Both hardcover and softcover can be purchased directly from the author at a discounted price at: www.buckthegooddoog.com
Hardcover, softcover and and eBook can be purchased directly from Xlibris.
eBook and softcover available through:  Amazon US;  Amazon FR; Amazon UK; Barnes and Noble and other online re-sellers Worldwide.
About the author:
Renee Pierce Williams was born and raised in Columbus, Georgia. After college, she began her seventeen-year career at Aflac, where she held positions in both the Marketing and Legal Documentation divisions of the company.
Renee's love for animals began at a very early age. Throughout her life, she has raised and cared for all types of animals, large and small. She began showing horses at around age twelve. She joined the American Quarter Horse Association (AQHA) in 1998 and began showing professionally. She currently owns and operates Animates, an in-home pet care business she started in 2002.
Renee now lives in Midland, Georgia, with her husband Bill; her daughter Shelby; two horses, Sparky's Lucky Andy (Andy) and Intangible Jet (Floyd); two birds, Dolly and Miss Poof; and a dog, Dobby.
You may visit the Renee Pierce Williams – Author Facebook page at https://www.facebook.com/rpwilliams4 for more information and photographs of animals featured in this book.
About the illustrator:
Shelby Renee Williams was born in Columbus, Georgia. She is a graduate of Columbus High School and is currently a junior at Columbus State University where she is pursuing a career in veterinary medicine. Shelby has won numerous art contests over the years, including several for the annual Steeplechase at Callaway Gardens. She was inducted into the National Art Honor Society in 2009.