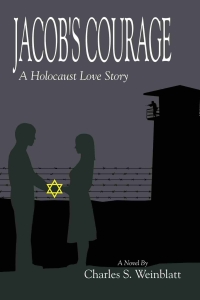 Today we have a sneak peek from Charles S. Weinblatt's historical fiction book, Jacob's Courage.
This is a tender coming of age love story of two young Jews when the Nazi war machine enters Austria. Follow lovers Jacob and Rachael from their comfortable Salzburg homes to a decrepit ghetto, from there to a prison camp where they secretly become man and wife. Revel in their excitement as they escape through a tunnel, join the local partisans and fight their Nazi oppressors. Finally ride the fetid train to Auschwitz. Stung by the death of loved-ones, enslaved and starved, the young lovers have nothing to count on but faith, love and courage. From desperation and despair, to unforgettable moments of chaste beauty, Jacob's Courage examines a constellation of emotions during a time of genocide.
Jacob's Courage is available at Amazon.com and at Barnes & Noble.com
And now, from Jacob's Courage…
Jacob sat upon the brick floor and watched as the ash displaced from his fall made slow circles, floating in waves around the room. Bits of ash landed everywhere, on the uniforms of the soldiers, on the faces of workers, on the tray next to him, even on the bodies as they were carried into the room. It reminded Jacob of snowflakes falling gently on a windless day.
With astonishment, Jacob realized that he was inhaling all that remained from hundreds of Jews, perhaps thousands! Those tiny bits of ash were the remaining molecules of all of those innocent people, burned by these kapos. The realization was like a punch in his stomach and it made him sick. He began to retch again. Nothing happened. He understood it was because he had been starved for a long time. His hands and legs trembled.
Workers dressed like Jacob stared at him as they continued their frantic pace. Jacob became obsessed with the ash. It was on their uniforms, their faces, and their hands. Random, useless thoughts emerged. The ashes must be buried by a Rabbi. To Jacob, the men looked like frightened ghosts in some lurid story. Their faces held no expression save fear; no remorse, no anger, no frustration… nothing but constant, grueling fear. They moved like panicky machines from place to place, turning former friends and relatives into tiny bits of white ash. It was a scene from the worst possible nightmare. But it was Jacob's nightmare and it seemed more real than life.
The German soldier that had been screaming at Jacob finally arrived. He looked like any other German soldier. In his late 20s, he was tall, with blonde hair tucked neatly into his helmet. His blue eyes glared at Jacob, burning into him. He looked quite formidable, with his black helmet, black uniform, flashing SS pins, machine gun and neatly holstered Lugar pistol. As he watched, Jacob could not hear the words of the German soldier. In fact, he could hear nothing except the thundering fire. He had been temporarily made deaf from his encounter with the furnace door. It was then that the tall, young soldier suddenly stopped screaming and slowly removed the Lugar from its holster.
The German soldier drew his gun and moved toward Jacob, staring at him with indignant admonition. Then, the look on the Nazi's face suddenly changed from anger to one of decision. Jacob was reasonably certain that the soldier had decided to "fire" him from his job of shoveling dead people into the immense furnace. That thought made Jacob smile, as he assumed that he would be "transferred" to a different job in the camp.
However, Jacob's smile was not well received by the soldier. He screamed at Jacob in indignant German. Jacob noticed in an offhand manner that his accent had a touch of Bavarian.
"What is it with you Jews?" scowled the tall young man with piercing blue eyes. "Do you think you're here for a vacation?"
With that, the soldier pointed the shiny black gun at Jacob's head. Jacob's heart pounded heavily in his chest. A shock ran up and down his spine. The hairs on the back of his neck pointed up. His breath came in short gasping sounds.
___________________________________