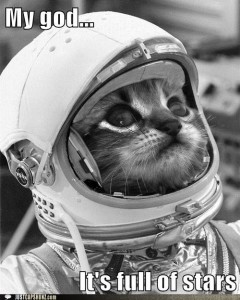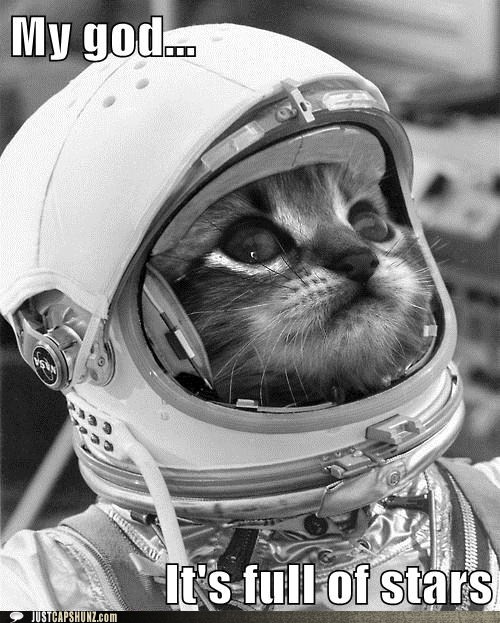 This week, I'm going to be a little more serious than usual. No idea why. I just am. And I want to talk about star ratings. No, I don't want to discuss the relative merits of Justin Bieber or Katy Perry, fascinating as that might be; I'm talking about the graded star method many websites use to rate various products, but specifically as it pertains to indie authors, that aspect of the review system used by the mighty Amazon.
Sometimes feeling like I've accidentally wandered into a cosmologist convention, I keep hearing my fellow writers discussing star systems, conversations that range from the alleged importance of 5-Star ratings to dire warnings of the career damage caused by 1-Star ratings. There are even dark tales of jealous authors deliberately dropping a single star on the book pages of their competitors… a frankly bizarre behaviour, if true, since my admittedly collectivist-hippie-skewed moral compass informs me we're less competitors than we are colleagues. My favourite star-related content is our own M. Edward McNally's regular inclusion of 1-Star customer ratings for classic novels. The ratings, along with their concomitant cluelessness, are hilarious.
But let's back up for a moment… as the actress said to the… oh, wait. No. Serious, remember? When I started writing music reviews for PopMatters, a large and very eclectic online pop culture magazine, unlike other similar outlets at the time, we didn't do number ratings. I liked that. We were encouraged to really delve into the guts of whatever we were reviewing, blending journalistic facts with a more personal exploration of the music. I don't regret my time writing for them one little bit. At the time, I was reading the thoughts of other music writers, many of whom debated the purpose of reviews: some arguing they were basically consumer guides and others championing the so-called "think piece" aspects of the form, and everything in between. If you're interested, Robert Christgau is a great proponent and practitioner of the former (he literally names his reviews dating back to 1969 "Consumer Guides"), while the latter would probably be best personified by the late Lester Bangs (if you haven't read him, do so, he's great).
Now, I won't claim I stopped writing for the site on any regular basis solely due to their introduction of number ratings, but I'm sure it was a factor when I decided to move on. They honestly felt arbitrary. Was my job to grade or rate, or was it to explore? Some might say both, and I've some sympathy with that position, but regardless, my own emphasis was very much on the latter. Why did it matter what number I assigned? Surely, the exploration of my reactions to the music, maybe some insight into the music's roots or influences, comparisons with similar artists, were more valuable than a numerical rating… otherwise, why bother with the written review at all? I've never subscribed to the view, incidentally, that sees critics as failed artists, as something parasitic or even malicious. Oh, sure, some of them can be—music writing in particular can often be damn near toxic with snark—but at its best, the great review is complementary to the art it describes or eulogizes. It can and ought to be a symbiotic relationship.
So Amazon is in the business of selling books. They know the consumer likes to see a product quantified, so star ratings make sense for them. But for me—and I know I'm not completely alone in this—I want to hear about someone's emotional engagement with a work. I want to know how it made them feel, what other things it reminded them of, whether plot- or character-driven, whether the language was robust or fragile, pretty or brutal. The last thing I really care about is some fairly arbitrary star ratings. Because they are arbitrary. I've heard writers complain about a 3-Star rating they just had, which suggests they think it means the book is considered mediocre. For what it's worth, if forced at gunpoint to care, I'd make a comparison to the movie review aggregator Rotten Tomatoes, whereby a 60% rating is considered Fresh (as opposed to Rotten). Now, my math skills are as rudimentary as the reasoning abilities of a recently-defenstrated pygmy hedgehog, but even I can work out that 3 Stars is… uh … 60%. Right?
All of which is my roundabout way of saying: don't sweat the numbers, read the reviews themselves—at their best, they're far more crucial to an understanding of whether you will enjoy a work or not. And my fellow indie authors, unless you strongly suspect malice (and Amazon will remove reviews that are demonstrably vindictive or spiteful), try to ignore the numerical aspect of the review and really get to grips with the words themselves. They're our stock-in-trade, after all, or we'd all be accountants instead. And, yeah, probably richer.
*     *     *     *     *
David Antrobus is a contributing writer for Indies Unlimited and author of the nonfiction book Dissolute Kinship: A 9/11 Road Trip. For more information, please visit the IU Bio page, and his website: The Migrant Type. He also occasionally adds his stuff to the website BlergPop.