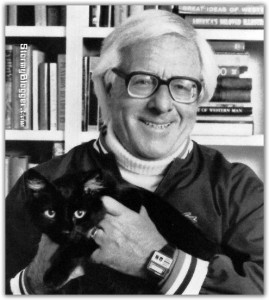 When I was maybe 12 or 13 years old, one of the first stories I ever wrote was about an old man wandering the streets in a dystopian future. He was so old and forgotten that he couldn't even remember his name, going by the initials RDB. Those initials, of course, stood for Raymond Douglas Bradbury, and the man at the time was my literary hero. My very obvious stylistic mimicry of him back then, in that and many other proto-stories, was excruciating yet necessary; all part of a writer's journey. But it's no exaggeration to say I almost certainly wouldn't have been a writer had it not been for Ray Bradbury and his short stories in particular. Up until the time I opened a well-pawed library copy of The Illustrated Man, I knew I loved stories (what kid doesn't?), but I'd never realised until that moment how those stories could be presented, enclosed in beauty, garnished with lyricism and beauty. Not just the tale but the telling. That was Bradbury's gift to me and countless other readers who, thanks to his example, began to dream of also being writers.
In some ways it would be churlish to lament the passing of a man who lived to the grand age of 91. Yet in others, his talent was so immense, the legacy he leaves so comprehensive—his longevity itself somehow becoming a part of that legacy—that I have to admit to a great sadness at his passing last week.
In terms of politics and overall cultural views, it would be difficult to find a public figure I disagreed with less yet admired more than Mr. Bradbury. But then again, he always was a contradiction: a science fiction pioneer who mistrusted hard science, a visionary for a brighter future who disliked technology, a starfield dreamer who set much of his work in small-town Illinois (you could say his Green Town was the antecedent of Stephen King's Castle Rock). In one sense, he was a conservative neo-Luddite. Yet in others, he was a compassionate and populist advocate for creativity and the arts and the restless, rebellious spirit.
But this won't be a long tribute. In fact, I'm going to let the man himself have his say for the most part. The following are thirteen choice quotes in no particular order, after which I will include two short passages from two of his short stories that, in some ways, best sum up the exuberance and wonder of this great American writer. He wrote horror, he wrote science fiction, he wrote fantasy. But far more importantly, he wrote.
1. "You don't have to burn books to destroy a culture. Just get people to stop reading them."
2. "People ask me to predict the future, when all I want to do is prevent it. Better yet, build it."
3. "My stories run up and bite me in the leg — I respond by writing down everything that goes on during the bite. When I finish, the idea lets go and runs off."
4. "The good writers touch life often. The mediocre ones run a quick hand over her. The bad ones rape her and leave her for the flies."
5. "Stuff your eyes with wonder. Live as if you'd drop dead in ten seconds. See the world. It's more fantastic than any dream made up or paid for in factories."
6. "I have never listened to anyone who criticized my taste in space travel, sideshows or gorillas. When this occurs, I pack up my dinosaurs and leave the room."
7. "Science fiction is the most important literature in the history of the world."
8. "Science-fiction balances you on the cliff. Fantasy shoves you off."
9. "We are cups, constantly and quietly being filled. The trick is knowing how to tip ourselves over and let the beautiful stuff out."
10. "Every morning I jump out of bed and step on a landmine. The landmine is me. After the explosion, I spent the rest of the day putting the pieces together."
11. "If you hide your ignorance, no one will hit you and you'll never learn."
12. "We are the miracle of force and matter making itself over into imagination and will. Incredible. The Life Force experimenting with forms. You for one. Me for another. The Universe has shouted itself alive. We are one of the shouts."
13. "Go to the edge of the cliff and jump off. Build your wings on the way down."
*
An example of his astonishing descriptive abilities and feel for language first, his visceral and poetic sensibility. Here is Bradbury describing a Tyrannosaurus Rex in his famous story "A Sound of Thunder."
"It came on great oiled, resilient, striding legs. It towered thirty feet above half of the trees, a great evil god, folding its delicate watchmaker's claws close to its oily reptilian chest. Each lower leg was a piston, a thousand pounds of white bone, sunk in thick ropes of muscle, sheathed over in a gleam of pebbled skin like the mail of a terrible warrior. Each thigh was a ton of meat, ivory, and steel mesh […] And the head itself, a ton of sculptured stone, lifted easily upon the sky. Its mouth gaped, exposing a fence of teeth like daggers. Its eyes rolled, ostrich eggs, empty of all expression save hunger. It closed its mouth in a death grin."
And sometimes, he was able to capture something beyond wistfulness and dreams, something both timeless and in the moment, the sweep of human history measured against the capacity for human yearning and, well, love. This, from a short story called "The Wilderness":
"Is this how it was over a century ago, she wondered, when the women, the night before, lay ready for sleep, or not ready, in the small towns of the East, and heard the sound of horses in the night and the creak of the Conestoga wagons ready to go, and the brooding of oxen under the trees, and the cry of children already lonely before their time? All the sounds of arrivals and departures into the deep forests and fields, the blacksmiths working in their own red hells through midnight? And the smell of bacons and hams ready for the journeying, and the heavy feel of the the wagons like ships foundering with goods, with water in the wooden kegs to tilt and slop across prairies, and the chickens hysterical in their slung-beneath-the-wagon crates, and the dogs running out to the wilderness ahead and, fearful, running back with a look of empty space in their eyes? Is this, then, how it was so long ago? On the rim of the precipice, on the edge of the cliff of stars. In their time the smell of buffalo, and in our time the smell of the Rocket. Is this, then, how it was?

"And she decided, as sleep assumed the dreaming for her, that yes, yes indeed, very much so, irrevocably, this was as it had always been and would forever continue to be."
*     *     *     *     *
David Antrobus is a contributing writer for Indies Unlimited and author of the nonfiction book Dissolute Kinship: A 9/11 Road Trip. For more information, please visit the IU Bio page, and his website: The Migrant Type. He also occasionally adds his stuff to the website BlergPop.