Today we're pleased to announce the winner of the 25th weekly Flash Fiction competition at Indies Unlimited.
The winning entry is rewarded with a special feature here today and a place in our collection of winners which will be published as an e-book at year end.
The winner this week is perennial favorite Ed Drury.
Congratulations to Ed, and thanks to everyone who participated – excellent entries! Now, without further ado, here's the winning entry: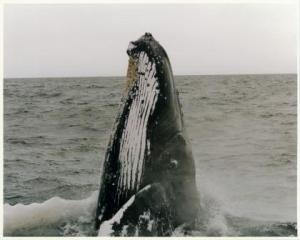 The Whale's Tale

by Ed Drury

I don't mind filling in for a brother who's getting a little action. Someone has to entertain the watchers, as we call them. The watchers just want to see a little spout, maybe a breach and they really like the old tail slap especially if we give them a little soaking in the process. It is all in good fun and really no trouble. Badda boom badda splash. But as soon as I saw that lady with her camera and her little dog I wanted to tell her she wasn't in Kansas anymore.
So I swam up right beside the little zodiac boat (what a funny name for a boat!) and looked her right in the eye. They love that! But every since that movie came out a few years ago, there is always some idiot who thinks they are Dory! Sure enough she did it! "Iiiiiiiiiehhhhhh speeeeeeeeeeaaaaak Whoooooaaaaahhheel" she said as a whole boat full of happy watchers laughed. Funny! I simply replied in my best Dory imitation, "Yooooooooooouuuuuuuuuh aaaareeeeee annnn idd deee ought!!!!!!" Then I gave them the tail slap they so richly deserved. Watchers should just watch and not try to talk like whales. And that goes for your little dog too! You don't see me impersonating flipping flipper after all.