This week's Tuesday Tutorial is written by our own Melissa Pearl. Thank you, Melissa!
For those of you who haven't spent much time on Goodreads, it is an amazing site. I love it. There are some fantastic features that benefit both authors and readers.
From a reading point of view, adding books to my "TO READ" list, totally rocks. It's such an easy way to keep track of all those books I want to read.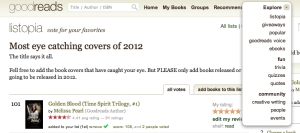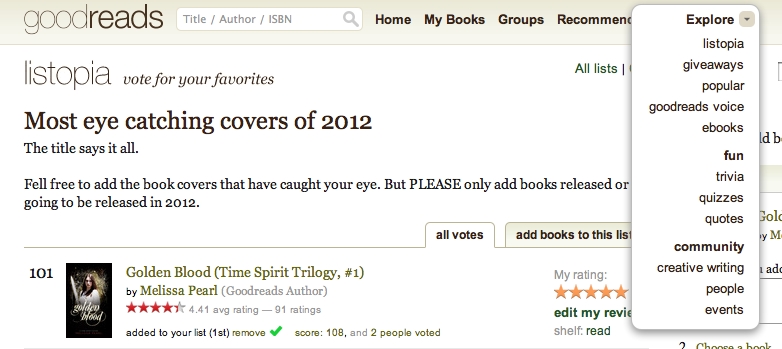 Another feature that is really beneficial to both the reader and writer is LISTOPIA. You can find this by looking at the top of any page (if you're logged in). You will see EXPLORE with a drop down menu. Listopia is first on the list.
This then takes you to a page where you can search for specific lists or see which ones are recommended based on your personal preferences (the types of books you've rated highly). Here is a direct link to the most popular lists.
Most people glance at the Top 10 – 20. This no doubt sparks reading ideas and multiple books are added to people's "TO READ" lists.
This is where Listopia is completely brilliant for authors. Getting on one of these lists is simple. You can either Create Your Own List or you can find a list that suits your book and ask someone to add your book to it.
My books have been added to lists like Best Time Travel Romance Novels and Best YA Romance. I actually was surprised to find someone had added my book to The Most Eye Catching Cover of 2012. Excitement!!

To see which lists you've voted on you click on MY LISTS. This will show you where you've voted and is the easiest way to find which lists your books are on. (On come on! We all know you vote for your own stuff!!)
That brings me to my next point… voting. Once your books are on the appropriate lists you then need to start rounding up some votes. The more votes you have, the higher up the list you climb. Your book ratings come into play here too, but more than anything, you need votes. Obviously the higher up the list you are, the more exposure your books are going to get.
Here is an example of what the voting page looks like…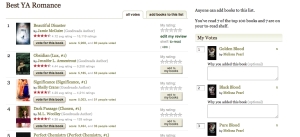 My books actually made it to slots #1 and #2 on this list, but time has passed and I'm now down to #14 and #18. Time for me to start rallying up some more votes and advertising the life out of this list.
I guess there is a little strategy involved in all this. You need to decide which lists will get the most exposure on Goodreads and then decide if your book belongs there. Having a massive group of supporters willing to vote for you is mega helpful too.
All in all, it is a ton of fun. As a reader, it is so cool to discover books you've never heard of. As a writer, it's super cool to see your books rising up that ladder and hopefully catching the eye of many a reader.
Whether you're a published author or not, you can gain so much from this Goodreads feature. Happy browsing and voting everyone.