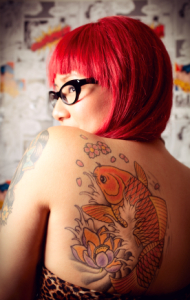 Backstory presents a challenge to a lot of writers. Not the writing of it. We're pretty good at that. We can dream up plenty of history about the guy down the street who likes to wear pink, patent leather go-go boots to water his azaleas. Trouble is, some writers don't know when to stop, or where and how to work it into the story.
There are no hard and fast rules about backstory; like most things in writing, it depends. Readers need to know enough to become invested in the story, but not so much that they get distracted from the action. Some genres need more than others. If you build worlds from scratch, you probably need to provide more explanation than those of us who set their stories on Earth as we know it. You may need to tell the reader that there are two suns, six moons, and seven species of sentient beings on your fictional planet because the rest of the universe exploded, leaving only these survivors, who all speak different languages and would hate each other even if they could communicate. Readers of fantasy and science fiction probably expect a certain amount of backstory.
In other types of fiction, particularly contemporary, less is more, and in all types, how you use it matters.
For example, here's the opening scene of a book I will probably never write. A female cop and her male partner are chasing a suspect. She's freaking out, as if this is her first day on the job, even though she doesn't seem that young. Her partner calls her "creampuff" and tells her to wait in the car and do her nails. She refuses, but at a critical moment, she hesitates. The suspect gets the drop on her, nabs her gun and flees.
There's backstory here, of course. But when the action is just getting rolling, and you want to hook your reader, it's probably not the best place to stop everything and explain that Creampuff was her character's nickname when she was a child star in a famously awful popular sitcom, and after some lost years of youthful indiscretion she went GI Jane and left that world behind. Only her partner, who had a crush on her when he was a kid, recognizes her, yet resents being assigned to "show her the ropes."
Frontload this into your story and you run the risk of kicking your reader out. We can weave it in later. In slower moments. As they're commiserating over a beer, maybe. Or during an otherwise boring stakeout. We move on to more action, maybe with some brief touch-ins to the past, then slower moments where we have the luxury to reveal more detail that further hooks your readers and makes them root for her to succeed. Or at least chase a perp without whimpering.
Backstory Versus the Info Dump

Info dumping is the devil, according to some who want to tell you how to write. It has its uses, as M. Edward McNally can tell you here. But at its worst, info dumping is the practice of clumsily whomping your reader over the head with too much backstory-as-exposition before the story even gets rolling. Or worse, as the story gets rolling. Imagine if we'd started our sample novel like this:
Suzy wakes at precisely 4:45 a.m. even though she doesn't need to get out bed until seven for her new job as a police officer. She turned thirty a week ago, celebrating by herself with cake and champagne because she just moved here from Hollywood and doesn't have any friends yet, but she looks a lot older. She's five feet tall, is a size two, has blue eyes and short brown hair that used to be blond. She hates that she wakes up at precisely 4:45 every morning just like when she was five and her mother made her take acting lessons before kindergarten. She gets up and examines her closet: seventeen pairs of multicolored yoga pants and twenty sequined tube tops, each one decorated with a flag of the world. A fan sent them to her ten years ago but she only ever wore the one with the Japanese flag, because she was drunk and she thought it would impress another actor she liked, who turned out to be Korean. Maybe she should have paid closer attention to her history tutor on the set, instead of dreaming of becoming a movie star. She reaches for her boring police uniform. I hope no one at the precinct recognizes me from that old television show, she thinks….
Holy hand grenade, Suzy! Just get dressed and go shoot some bad guys.
BUT…if certain information is so critical to the understanding of a story that weaving it in later loses all impact and doing it as a flashback might distract the forward flow, it may work better as a scene in a prologue. More about prologues and Suzy's tube tops next week in Part 2….