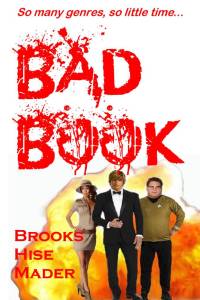 Bad Book
by K.S. Brooks, Stephen Hise, JD Mader
Genre: Humor, Satire
Word count: 52,109
So Many Genres – So Little Time
Case is a man among men. Women want him – men want him dead. Join him on his epic travels through multiple literary genres as he ruins everything with his own unique panache.
What's your thing? Vampires? Space-adventure? Noir Detective? Spy-thriller? Westerns? Classics of literature? Whatever it is, it is in here and totally PWNED. Fans of National Lampoon humor and the Scary-Movie spoofs will thoroughly enjoy this hilarious send-up of multiple literary genres.
This title is available from Amazon US and Amazon UK. Free this weekend – while supplies last.
How did you come up with the title for your book? Does it have any special meaning? 
There is actually a very interesting story about that. However, there is a 50 word limit to the response here, and the story just happens to be 51 words long. Instead, I'll just say that Brooks lost a long-standing wager to Clive Cussler.
Who was your favorite character and why?
In one scene, there is an Apache Chief. He is tall and strong and clear-headed. He's only in one scene, but he's the kind of character you just fall in love with.  Anyway, my favorite character was the guy standing right behind him.
Does your book have any underlying theme, message, or moral?
I like to think it is message-free and complete brain candy. There may be a message in there. If there is, it's probably from Brooks. I suspect it was a plea for help. Or pizza.
What would/could a reader or reviewer say about your writing that shows they "get" you as an author? 
I'd have to say that words just cannot convey the same sense of respect and admiration as urinary incontinence. Provided, of course that urinary incontinence is an unusual state for the reader/reviewer.
Give us an excerpted quote from your favorite review of this book: 
Favorite review? I can't answer that – there were too many words and I would have had to read them all, but I really do like all the pretty stars.
Where can people learn more about your writing? 
http://www.ksbrooks.com/BadBook.htm There are links to all three authors pages there.