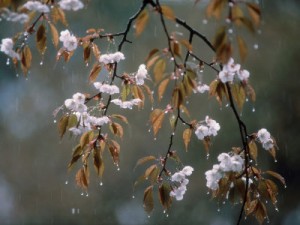 I am writing in the rain. My computer is exactly eighteen inches from my office window.
Outside, the trellis is heavy with climbing jasmine and trained plumbago. The soft sounds of the falling rain are echoed in the movement of the leaves they pelt.
I am warm and dry, yet somehow a part of the dripping scene in front of me. This landscape has been my food for the day, a rich diet of wet leaves, green vistas, and periwinkle blue flowers.
Writers need to be nourished. We are, after all, artists. To create we must refuel our tanks. To "find our art" as Pablo Picasso famously said, we must be able to draw in, process, and send out a piece of ourselves.
How one does this is entirely dependent on the personality of the individual. We writers are a unique lot — and what refreshes one will exhaust another. I have listed some of my favorite ways to keep the words I am looking for flowing freely.
Physical exercise is the first "go to" for me when I am stuck. An hour hitting tennis balls on the ball machine has clarified plot flow time and time again. Yoga is another practice that consistently provides the answer I am looking for. I would like to think it is the movement, but I suspect that it is the happy endorphins allowing my unconscious to solve the problem for me. For this reason when I am writing I get up every hour and a half and move around. I time myself, and after fifteen minutes are up I am back to my story. It is also a great way to accomplish those little things you don't ever get to. Just make sure you watch the clock and go back to your desk when the time is up.
Laughing is another way to free the mind. A writer I know has posted lots of Grumpy Kitty photos and videos, and I suspect he enjoys watching them as much as sharing them. The physiology of laughing provides stress relief that has been tied to longer life. I know that, after a long day, I want to watch something funny on TV. Family Guy and the Big Bang Theory are two favorites that never cease to accomplish their goal.
A popular Floridian author, Randy Wayne White, is also an adventurer and avid water sports participant. What better way to end a day spent indoors at his desk developing his character, Marion "Doc" Ford, than by paddleboarding at a beach near his home on Sanibel Island. He is a successful restauranteur, and just for fun invented his own brand of hot sauce. He writes every day, but knows that, for him, time spent at the beach recharges his spirit.
Visiting a museum, listening to music, or reading, be it a classic or a contemporary novel, are other ways to stay relaxed, focused, and fed. I like to read while I eat lunch, feeding my body and soul at the same time. Because I like lists I have included a link to a site with "50 books you must read."
This eclectic list inspired me to make 2013 the year that I filled in some gaps in my reading. How could I have seen The Maltese Falcon a hundred times and never read the book? How could I call myself a Hemingway devotee without understanding the struggles of The Old Man and The Sea? How could the movie Laura, an American film noir of cult status, be my favorite movie if I haven't read the words of Vera Caspary? Oscar Wilde's masterpiece, The Picture of Dorian Gray, provides a glorious buffet of a cruel dandy's privileged existence and pulls us willingly into the debauchery and decline of so promising a golden boy. I read the 1890 version contained in the Norton Critical Edition, slowly, and it encouraged me to go back to my first novel and clean what I was unhappy with. What is good for Oscar is good for Lois.
Gardening and especially working on my orchids provides me with hours of contemplation. There are a few tricks to growing orchids, but once you have mastered them it is amazingly easy to have flowers that last for months. I tried to grow roses, but it was a tedious schedule of rotating chemical sprays as they constantly contracted sooty mold and bugs. In Florida orchids are a better choice, and I love to hear from people who have followed my tips and now grow their own. Nurturing these odd-looking plants into producing stunning blooms gives me a sense of accomplishment that I channel back into my WIP.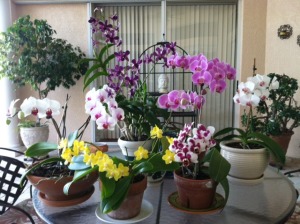 Cooking, specifically chopping, is another great way to kill two birds with one stone. My husband calls me the "freelancer" because I will throw things together as the mood strikes me. He is not complaining, however. I must admit I am a very good cook, except for rice and breakfast potatoes. Rice requires that you follow directions, and I need cooking to be unconfined. My husband makes the rice, and I do the rest. I have become fond of using the slow cooker, which is the ideal solution for busy writers. Throwing lots of things in a pot and letting slow heat and time do the work is ideal. Don't think in the limited terms of cans of mushroom soup, unless that is what you want. The Internet is full of gourmet suggestions. I take my breaks to stir what is in the crock-pot, re-season, and maybe add a little of something that the recipe didn't ask for.
Intimacy is another way to find inspiration. Indies Unlimited is a safe for work site, so I will leave this topic to your imagination.
Sometimes, the act of speaking aloud about a character or scene and getting some constructive feedback from another writer, is all it takes to feel refreshed and anxious to return to your computer. Having a person like this in your life is a luxury and a blessing I wish for every dedicated writer.
I hope these ideas help you to get the nourishment you need to create and produce work you and your readers will love.