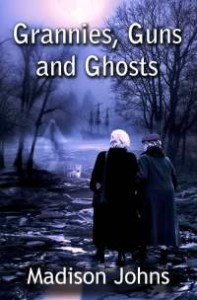 Today we have a sneak peek from the new book by Madison Johns: Grannies, Guns and Ghosts.
In the sequel to Armed and Outrageous, Grannies, Guns and Ghosts, Agnes Barton and sidekick, Eleanor Mason, return. This time around there is a paranormal theme as East Tawas, Michigan, is overrun with ghost sightings. Even the death of a recent heir to the Butler fortune is blamed on a ghost.
Agnes' flame, Andrew Hart, is nowhere to be found. That is until he is spotted with a mysterious woman. Who is she and what is going on with Eleanor's flame known only as Mr. Wilson? It is enough to shake any senior aged woman's belief in romance to the core.
This book is available from Amazon, Amazon UK, and Smashwords.
Here is an excerpt from Grannies, Guns and Ghosts…