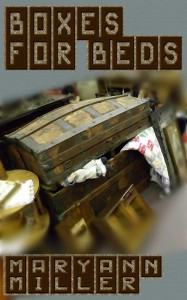 Today we have a sneak peek from the historical mystery novel by author Maryann Miller: Boxes for Beds.
Leslie Richards, author and single mother, moves from New York to the sleepy town of Pine Hollow Arkansas to get away from a past she's hoping to forget. Forgetting becomes impossible when the local sheriff decides she's a prime suspect in the kidnapping of a baby, and her secrets are threatened in this historical mystery set in 1961. Sheriff Bates doesn't trust northern do-gooders who have "Come to tell us how to treat our …" and bows to pressure from the mob that controls Hot Springs. Will Leslie get railroaded for a crime she did not commit? Can she forgive Ronald for walking out on her?
Boxes for Beds is available from Amazon and Amazon UK.
And now, an excerpt from Boxes for Beds…