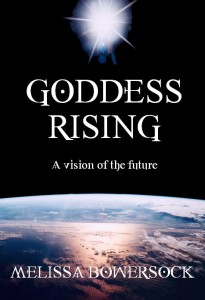 Goddess Rising
by Melissa Bowersock
Genre: spiritual fantasy
Word count: 147,300
It is the future, and the end of the world as we know it does not come through nuclear war or an asteroid impact, but from within the earth itself. A global geologic holocaust has destroyed civilization, leaving only a tiny fraction of people to rebuild scattered colonies. Reduced to a primitive state, they live close to the earth and cultivate a Goddess worship, and chosen ones dream a prophecy that Greer, a female savior, will return them to greatness.
An epic and magical story of one woman's exceptional destiny during exceptional times, Goddess Rising follows Greer's journey from simple obscurity to prophesied reign. Acknowledged as the face of the Goddess on earth, Greer discovers the rewards of power—and its price—as she struggles through her own labyrinth of fear and desire, sexuality and sacrifice, love and death.
This book is available from Amazon, Smashwords, and Barnes & Noble.
Melissa, how did you come up with the title for your book? Does it have any special meaning?
I wanted the title to convey movement (Rising) and the imminence of this future time.
Who was your favorite character and why?
My favorite character is Khassis, a gay man who becomes Greer's priest and bodyguard. He's modeled after a dear friend.
Does your book have any underlying theme, message, or moral? 
The message is that establishing a true utopia is extremely difficult, yet the challenge should not stop us from trying.
What would/could a reader or reviewer say about this book that shows they "get" you as an author? 
Some readers have overlaid Greer's spiritual journey on their own, and they identify with and appreciate her struggles. That's a perfect application of the story.
Give us an excerpted quote from your favorite review of this book: 
On(e) of the most amazing books on the energy of the Goddess I have every read.
Where can people learn more about your writing? 
http://www.newmoonrising.net