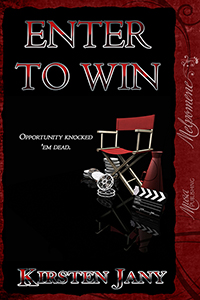 Today we have a sneak peek from Enter To Win, the mystery novel by author Kirsten Jany.
Director Rob de Heer's latest publicity stunt to revitalize his failing soap Crystal Falls – a contest giving viewers a chance to have a character shaped after them – seemed brilliant…right until Rob was found murdered on the set. Could the key to Rob's death lie in the four finalists who have been invited to spend two weeks in a mansion in the Hollywood Hills? Now the police recruit Rob's underpaid lackey Jeremy to babysit two liars, an accused wife killer, and a snitch under the guise of shooting a reality show that will crown one of them the winner. Competition has never been this deadly.
This book is available from Amazon, Barnes & Noble, Kobo, and Amazon UK.
Here is an excerpt from Enter To Win…