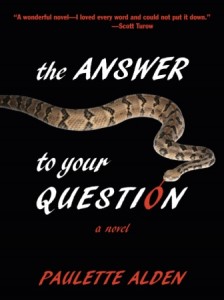 Today we have a sneak peek from The Answer to Your Question, the literary suspense novel by author Paulette Alden.
How well can you really know the people you love, even your own son? Four young women are murdered, and he's the suspect . . .
After raising her son, Ben, by herself, librarian Inga Daudelin is blindsided when he is accused of murder. At the same time, Jean, a young, pregnant waif who seems both simple and wise, "imprints" on Inga at work, drawing her into an unusual friendship. When Ben kidnaps Jean, Inga and lead detective Ron O'Loughlin, with whom she is falling in love, search for the two, who, along with Jean's baby, have formed a strange but human family.
This book is available from Amazon and Amazon UK.
Here is an excerpt from The Answer to Your Question…