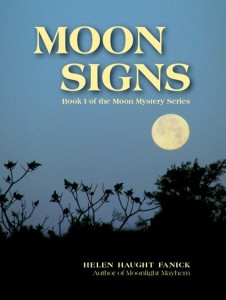 Today we have a sneak peek from Moon Signs, the cozy mystery by author Helen Haught Fanick.
Sisters Andrea and Kathleen are happily searching an old hotel in the Canaan Valley for paintings once owned by their grandparents—paintings they hope are Monets. Then their hotelkeeper is murdered, and Kathleen immediately starts tracking down the murderer. There are many clues and many suspects, including hotel staff, valley residents, and the mysterious foreigners who come from the Eastern Seaboard for skiing. There are also many types of danger—icy roads, sub-zero temperatures, and a killer who doesn't care how many people die as long as the right ones do.
This book is available from Amazon and Amazon UK.
Here is an excerpt from Moon Signs…