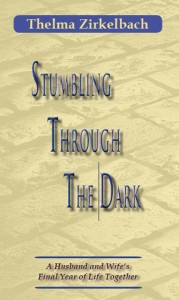 Today we have a sneak peek from the memoir by author Thelma Zirkelbach: Stumbling Through The Dark.
When her husband Ralph is diagnosed with leukemia, Thelma Zirkelbach accompanies him on a journey through hope, fear and medical mishaps, ending with his death. An interfaith couple, their different ways of coping with life's greatest spiritual challenge, its end, adds tension to a dark year. But they stumble along together and after his death she trudges on alone, taking as her mantra a Yiddish proverb: "When one must, one can." After coping with a possum in her bathroom one dark night, she realizes she's taken the proverb to heart. Although she's lost her husband, she's found herself.

Stumbling Through The Dark is available from Amazon.com and Amazon UK.
And now, an excerpt from Stumbling Through The Dark…