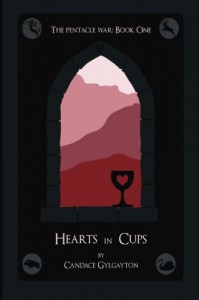 Today we have a sneak peek from the epic fantasy novel by author Candace Gylgayton: Hearts in Cups.
Where will the lust for power lead the unscrupulous – or the unwary? Power abhors a vacuum and, with no legitimate heir, civil war is brewing in the Pentarchy. Far from home, family or friends, Hollin is using her own gifts and abilities to track down the one man capable of restoring order to the kingdom. But time is running out and the deeds of valor have become entangled with those of deceit. Soon the many shifting facets of magic, in all its guises, will determine the ultimate fate of the realm. Can one woman prevent the fall of night?

The Pentacle War: Book One – Hearts in Cups is available from Amazon and Amazon UK.
And now, an excerpt from Hearts in Cups…