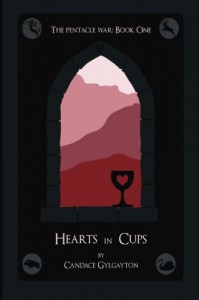 The Pentacle War: Book One – Hearts in Cups
by Candace Gylgayton
Genre: Epic Fantasy
Word count: 136, 411
Where will the lust for power lead the unscrupulous – or the unwary? Years ago, Brian, heir to the High Throne of the Pentarchy, left home and headed into the Tarrant Mountains on a private, undisclosed mission. He never returned, yet was never declared dead. Power abhors a vacuum and, with no legitimate heir to take the throne, plots are being hatched and civil war is brewing. To prevent the kingdom being torn apart, Hollin, the Duchess of Langstraad, declares that she will go in search of the errant prince. Betrothed by her family to Brian when she was a child, Hollin possesses a ring attuned to the prince which she proposes to use as an arcane compass in order to find him. The regent and council are willing to consent to her plan, but only if Hollin agrees to marry a candidate of their choosing, who will be made king, if her quest should fail. Now, far from home, family or friends, Hollin must rely on her own gifts and abilities as she struggles to track down the one man she believes capable of restoring order to the kingdom. As deeds of valor tangle with those of deceit, it is the many shifting facets of magic, in all its guises, which may soon determine the ultimate fate of the realm. Can one woman prevent the fall of night?
This book is available exclusively from Amazon.
Candace, how did you come up with the title for your book? Does it have any special meaning?
My novel consists of two volumes called The Pentacle War. Pentacle is derived from the setting of the five kingdoms, and War describes the main action. In book one, both Hearts and Cups are names of the same Tarot symbol and describe the complex interactions of the characters.
Who was your favorite character and why?
Hollin, the heart of the story, is not the sort of heroine who whines or bitches when things get tough; she doesn't just wring her hands or expect someone else to solve difficult problems. Life doesn't rattle her. Both forceful and admirable, she is also a very likeable character.
Does your book have any underlying theme, message, or moral?
One of the story's themes is about the effects of personal choice. When a person makes a choice, in thought, speech or action, it affects and changes the condition of more than the person making the choice. Every choice creates a ripple that touches, sometimes profoundly, many other people.
What would/could a reader of reviewer say about this book that shows they "get" you as an author?
"Getting me" means that the reader/reviewer says that Hearts in Cups makes them work, but that the pay-off is hugely satisfying. They understand that Hearts in Cups, with its compelling characters, deliberate pacing and complex plot structure, is an epic story written for adults, not just another fantasy-based YA novel.
Give us an excerpted quote from your favorite review of this book:
"Hearts in Cups is captivating, intricate, and a tale of the ages … read this book. Gylgayton will take you on a journey you'll not want to return from."
Where can people learn more about your writing?
http://www.candacegylgayton.com/