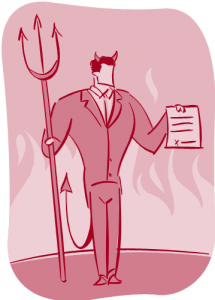 One of the reasons writers give for wanting a real, live, honest-to-goodness contract with a traditional publisher is that they want to see their work in hardcover. Paperbacks are all very fine, but there's nothing like the heft of a hardcover to make you feel like you've arrived. Or so I hear.
Anyway, the point is that it used to be a given: if you got an agent and signed on with one of the Big Five, you were guaranteed that your book would be in print in some form or fashion, usually hardcover followed by paperback. But Publishers Weekly reported this week that as the number of brick-and-mortar bookstores dwindle, and as e-books become more popular, agents are beginning to see this change – to the point that eventually, a dead-tree edition may not be guaranteed.
Or at least, agents are beginning to worry about such a change. The article itself is somewhat vague on this point. And spokespeople for Penguin Random House and Hachette, at least, told PW it's business as usual for them so far.
But one industry insider – Richard Curtis of e-book publisher E-Reads, who is also an agent – is quoted as saying he thinks it's already happening. He says publishers might reevaluate some books they already have under contract with an eye toward releasing them as e-books only, if they think they won't be able to sell enough print copies to recoup their investment (read: get a decent return on the royalty they've already paid the author).
This is bad news for traditional authors, because (according to this article) trad publishers pay higher royalties to their authors on dead-tree books than they do on e-books. That's because publishers typically price their e-books lower than their print books.
But what does this mean for indies? For one thing, if trad publishers stop guaranteeing their authors hard-copy editions of their work, it's one more reason to give up chasing a traditional contract. The biggest thing the trad publishers have going for themselves right now is that they have the ability to get a physical copy of your book into your local Barnes & Noble or Waterstones. As an indie, you can hire a professional editor and cover artist. And when it comes to marketing, even trad-pubbed authors are largely on their own. But getting a bookstore to stock an indie title is often an uphill battle. If a trad publisher can't even guarantee you that, what's the point of spending years beating your head against the wall to get a contract?
If you really, really, really want a hardcover edition of your book, Lulu.com will print one for you. And you get to set your own price and keep all your royalties.
Going indie is looking more and more like the smartest choice.