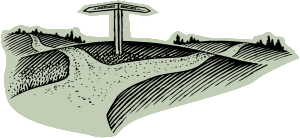 How many different perspectives are there to write from? Most novels are written in 'first' or 'third person' narrative, with a split of the third person narrative between third person omniscient and third person limited. It is of course possible to write in variations of and, or combinations of each of these points of view in the same book and, although some do it quite successfully, I would suggest that it takes an author who is relatively skilled and confident in their craft.
Second person narrative is another option that, although not generally used in fictional prose, can be used and quite successfully by a skilled author for a specific effect in part of a novel, or in a short story. I use second person narrative in the prologue of my 'Surviving the Battleground of Childhood':
I attempt through this book to paint a picture of myself, taking you, the reader, through with every stroke of the brush, and in effect share with you as I examine the construction of my own personality.
In second person narrative, that second person is 'you', the reader, who the narrator addresses using words and phrases involving 'you', taking you into his or her confidence, and it is usually in present tense. There are not many novels written in second person but probably one of the better known and more successful is 'Bright Lights, Big City' by Jay McInerney. Second person narrative however is more often used in nonfiction prose, such as do-it-yourself, self-help, guide books, cook books and articles like this.
Each of the specific points of view has certain advantages and it pretty much depends on which of these perspectives you want to take advantage. For instance, first person is an excellent perspective to get you, the reader, personally involved and to share in the experience:
By the time we landed the reality of the situation was beginning to dawn on me; as they ushered us impatiently from our craft I was so terrified I couldn't stop shaking and I desperately needed to relieve myself. One of the dour faced terrorists blindfolded me, bound my hands, and as he started binding my ankles, suddenly, there were two successive gun shots! Jumping with fright I nearly wet myself.
As in this example of first person narrative from my book, 'Heather Skye Wilson is The Psychic Warrior', the narrator will refer to themself using words and phrases involving 'I'. This will generally be in past tense: 'I was'. Present tense can also be used in first person commentary:
"Up! Up! Up!" someone's shouting; I'm still half in my dream-state… Bang! Bang! Bang! There's a loud thumping on the wooden walls of the billet. As I attempt to physically orientate, the double doors at the end of the barrack room burst open with such a force I am sure they will fly from their hinges.
In this example from my book, 'I was a Teenage Devil – But I'm Alright Now', the narrator again identifies himself using the pronoun 'I', but this time in present tense: 'I am'. Personally, I feel that it draws the reader in still further, sharing the story as it unfolds, making it even more immediate. However it is not an easy perspective to maintain; I use it successfully, I feel, for effect when highlighting a memory or a vivid scene, as in the above example. Relatively few novels are written completely in present tense, but three that spring to mind are 'Fight Club' by Chuck Palahniuk, which I thought worked quite well, 'The Time Traveller's Wife' by Audrey Niffenegger, loved the concept, but something about the execution in this novel didn't work for me, and 'Book of Days' by Stephen J. Rivelle, which I loved.
I actually used first person present narrative in my book, 'John Farrell is Utrinque Paratus', for about two thirds of the book; the other third of the book is told in past tense, as in flashback. It was an idea I was playing with and, from the feedback, I believe it worked. It was a bit of a task though and it may be a while before I repeat the exercise, unless the right project pops up in the meantime.
Third person narrative is denoted by the use of the pronouns 'he and she'. Third person omniscient is a method of storytelling in which the narrator knows the thoughts and feelings of all the characters; therefore, so does the reader, as in the following example from my book, 'Terra Nullius':
Eventually, as naturally and seamless as their whole communication had been, they made love. Gently at first; Trucannini had never experienced such gentle, caring lovemaking. And then passionately; Iain MacFadden had never known such passion existed.
This perspective is good for large casts of characters, with lots of different scenarios, but it does need some skill to build tension. Three books come to mind that do it quite successfully: 'The Girl With the Dragon Tattoo' by Stieg Larsson, 'No Country for Old Men' by Cormac McCarthy, and 'Joe Café' by JD Mader.
Third person limited is when the narrator knows only the thoughts and feelings of a single character; the other characters in the book are seen only from an observer's point of view, as in first person. It can be almost as personal as first person but with a little more scope, and with more opportunity to build tension than third person omniscient. A couple of examples of this point of view are 'Harry Potter' by J.K.Rowling, although she does break with traditional third person narrative at times, but an excellent example of third person is 'For Whom the Bell Tolls' by Ernest Hemingway.
I would just like to add that I do believe, as writers, we should experiment a little with different ways of telling our stories. We – each and every one of us – are different and, in our differences, view the world from our own unique perspective. As independent authors, we have a better chance of telling our stories in our different voices and, as Indies, I believe we have an obligation to stretch the boundaries. High Five Indies!