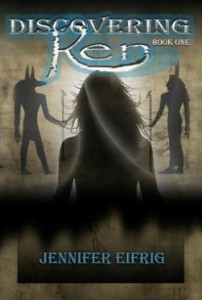 Isadora Ambrosine is a research archaeologist at a small-town museum. She has a rich adoring husband, great house, and steady job – until her boss convinces her to write a book and curate an exhibit on Egyptian magic in order to boost the museum's flagging attendance.
When she accepts a bundle of amulets in a Cairo marketplace, she becomes the next Isis, the Lady of Ten Thousand Names. Her new calling will threaten her life, destroy her family, maroon her husband in the underworld, and ultimately force her to choose between revenge and sacrificial love.
Discovering Ren, the urban fantasy by Jennifer Eifreg, is available from Amazon and Amazon UK.

Don't forget, you can cast your vote for trailer of the month on November 30, 2013 at 5 p.m. Pacific time.