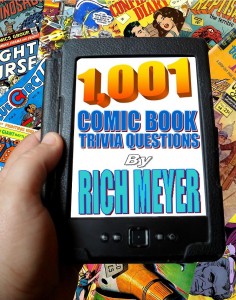 If you name a comic book character from the last 80 years, you'll probably find a question about 'em in this e-book quiz book. Superman, the Pink Panther, Donald Duck, Thor, Green Lantern, you name 'em! There are 1,001 questions about every genre of comics – superhero, funny animal, teen, horror, war, humor. There are questions that nearly everyone can answer, and questions that nearly everyone will get wrong!
No matter where in the spectrum you are as a fan, you're bound to come away with some new fact you didn't know each time you open up the first volume of the Kindle Quiz book!
Please note that this book is the same book as the original edition. This one, however, is free of any DRM (Digital Rights Management) coding.
This title is available from Amazon.