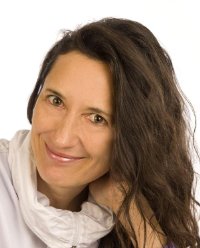 Guest Post
by Birgit Kluger
Do you have a global marketing strategy?
Are you a self published author? One of the pioneers testing the waters to see whether or not they will lead you to new, unknown worlds? Preferably worlds where treasures await you?
Well, I am one of them. Early in 2012 I published my first novel via Kindle Desktop Publishing. Ok, I was probably later than others, especially if looking at the US market, but in Germany self publishing had just taken off. And still is. Which leads me to the purpose of this post. Do you have a strategy? One that involves not only selling your books in the US or UK market where readers speak your own language but in foreign markets as well?
If not, the time has come to change that, because English books are not only read in English speaking countries. Germany for example has a large readership of both native English speakers and Germans who enjoy reading books in the original language.
Ever considered marketing your English books in Germany?
No?
Admittedly the German ebook market is small when compared to the US. BookStats estimates the US ebook market at in $3.04 billion in 2012. Compared to this figure the German market is small with an estimated market size of 17,9 Millionen Euro in 2012 (Source: Media Control) which equals about $24.6 million.
A smaller market means that less books are sold, but it also entails opportunities because it allows you to gain greater recognition, to be found by readers enjoying your writing. In order to do so you don't even have to speak German, all you have to do is use the tools already at your disposal and gain the knowledge on how to enter the market.
Which books sell in Germany?
When looking at the Kindle Bestseller charts for English books in Germany, you will notice that three genres prevail: Thriller/Crime, Fantasy and ChickLit. At the end of June 2013 there were seven English-language books in the German Top 100 Paid Kindle charts.
The highest-ranked of these was Chilled to the Bones by Quentin Bates, ranked 11th in the Top 100 Paid Kindle charts. At the same time, this ebook was listed at #210,947 among paid titles in the US Amazon store. To make things more interesting, let's estimate how many sales Bates had per day:
According to David Gaughran (Let's Get Visible), Bates's ranking in the US Amazon store translates to virtually no sales at all. Since he is ranked, he probably had one or two sales, not per day, but at some point in the previous days.
For Bates's German sales rank, estimates are that he sold about 100 ebooks per day. Priced at 6,01 Euro per book he would have earned 4,20 Euro per book as an indie author per sale, which translates into roughly $5.40 USD per book and more than $500 USD per day.
Interesting, isn't it, that Bates makes more money in a foreign market than in his own? And with a book that is not even translated into that market's native language.
How do you get there?
One promotion tool that still works in Germany are free KDP book promotions. These can only be used by authors who sign up for the period of 90 days at the Amazon Select Program, which means that they can only sell their ebook via Amazon, world wide! In return they get the opportunity to offer their book for free for five days.
About a year ago KDP promotions had the power to get a book into the Kindle Top 100 charts after a successful promotion, meaning that you had lots of free downloads. Unfortunately this is no longer the case, at least in the US. The good news is, that Amazon has not changed the algorithm in Germany the same way as in the States. Which means that you can still sell books after the end of your free promo and climb the ranks until you reach the critical top 100 in your genre, and if you are lucky, in the overall Kindle charts.
Selling outside of Amazon
But there are other things you can do as well in order to sell more books: Selling outside of Amazon for example. For the German market this can be a good choice since apart from Amazon there are a number of ebook platforms where you can sell your book. Also, with the recent launch of the Tolino, an ebook reader that has been created through the cooperation of the leading German booksellers together with German Telekom, there is another device besides the Kindle that is gaining in popularity.
Here is a short overview of the current situation regarding market shares: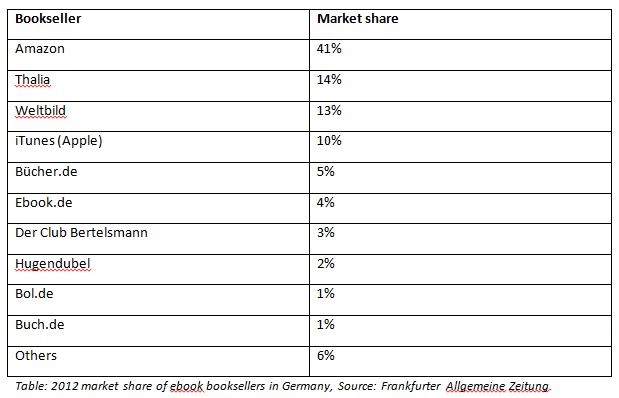 The Tolino partners (Weltbild, Thalia, Hugendubel, Der Club Bertelsmann, Buecher.de) now have a combined market share of 35 percent. Not bad, compared to Amazon, and certainly a trend that is worth watching.
If you want to reach these other stores you can use an Aggregator. Companies such as Ebook Partnership (http://www.ebookpartnership.com/) deliver to German shops but also German aggregators that operate on an international level and are open to authors from other countries, such as Xinxii (http://www.xinxii.com/en) or epubli (http://www.epubli.co.uk/).
What are you waiting for?
---
Birgit Kluger published her first novel Schau ihr in die Augen, with Droemer Knaur, one of the big publishing houses in Germany. She also self-published two novels. The ChickLit-Crime novel Trau niemals einem Callboy was more than two months in the Kindle top 100 charts and stayed for one year in the top 100 Genre charts.  For more on Birgit, visit her blog or her Amazon Author Page.