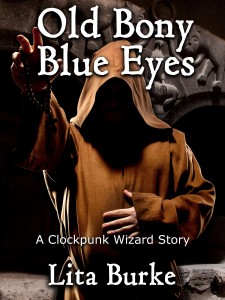 Kadmeion's wizard-for-hire business is up and coming. All is well until he promises the dragon Lady Betrayal that he will weave her a spell from the Dragon Lore book. Career-enhancing magic fills the unique tome. If Kadmeion acquires it, then his reputation will bring wealthier clients. But Dragon Lore is in Sir Death's library. The problem with visiting Old Bony's castle is coming back alive. For a safe return passage, the wizard must win a dice game or fight his way out. Despite Kadmeion's cleverness, Death's blue eyes might be the last thing the wizard and his friends ever see.
Old Bony Blue Eyes, the clockpunk novel by Lita Burke, is available at Amazon.com, Smashwords, and Amazon UK.
Don't forget, you can cast your vote for trailer of the month on November 30, 2013 at 5 p.m. Pacific time.