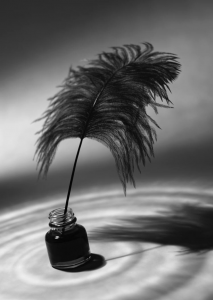 November means National Novel Writing Month (NaNoWriMo or NaNo). You will notice a sharp decline in posted pictures of kittens and puppies, and see an increase of posts that say nothing more than "1400 words today! Woot!"
This is because a lot of writers are concentrating all their energy into this annual effort to crank out a 50,000 word novel in 30 days.
I am not and have not been a participant in NaNo, but there are authors on staff here who are regular participants. There are others who do not see the point, or even think NaNo is actually a blight on humanity. NaNo seems to be one of those love it or hate it things.
I have always been a NaNo skeptic. To me, it seems like a bad idea to encourage people to put word count over quality. Focusing on word count seems so last century. If it weren't for outmoded print publishing standards, word count wouldn't even be a concern. The introduction of modern publishing software and scalable fonts should have rendered the whole issue obsolete. Yet, we are stuck with the remnant effects.
Using the now arbitrary figure of 50,000 words as a the requisite minimum for a novel, NaNo participants are challenged to produce their first-draft novels within 30 days. Mechanically, it's not a terribly daunting task. If you go at it for eight hours a day and don't take any days off, you'll need to produce an average of about 208 words an hour. Keeping that pace means you will type at a speed of between 3 and 4 words a minute. Even I type that fast. Usually.
NaNo has always looked to me like a brainchild of big ink. It makes sense to me that Penguin House Solutions, or whoever they are now, would be most interested in signing prospects who have proven themselves capable of cranking out a halfway decent novel in a month's time. They need reliable mid-listers – workhorses who can churn out moderately successful titles to float the company while the superstar talent agonize over their blockbuster-in-progress.
Personally, I would rather bob for dog crap in a tub full of rusty razor blades than lift a finger to impress the publishing oligarchy. I know a lot of writers still fantasize about a publishing contract. I am just not one of them.
But according to Wikipedia, National Novel Writing Month was started in 1999 by a freelance writer named Chris Baty. That first year, there were only  21 participants. The rationale behind it?
The goal of NaNoWriMo is to get people writing, no matter how bad the writing is, through the end of a first draft. The idea is that many people are scared to start writing because it won't be any good, and if there's a time to celebrate length, rather than quality, more people will write an entire first draft, which they can then proceed to edit if they wish.
My favorite part is that they can then proceed to edit if they wish. Okay, so I guess my big ink conspiracy senses were tingling for nothing. Still, I do find it interesting that NaNo's own website takes pride in pointing out the number of NaNo participants who have secured traditional publishing contracts:
Since 2006, over 100 NaNoWriMo novels have been released by traditional publishing houses. Hundreds have found homes at smaller presses, countless more have been self-published, and many have been printed in novelists' native languages.
Putting aside the little voice in my head that says, quacks like a duck, I do have a curiosity about the appeal the annual NaNo event holds for some writers and aspirants. Objectively, I would have to admit there may be some merit to the idea that the exercise may work to inculcate the the habit of writing every single day. It may encourage some authors to overcome their inner critics and get past blocks. For those with the self-discipline to take what will most likely be a train-wreck of a first draft and bend themselves to deep editing and re-writing, some few decent novels might even be produced. That is not to say they couldn't have been produced without the impetus of NaNo.
But it seems to me on some level that the people who participate in NaNo share a trait with people who join a gym. They are people who derive benefit from group activities. People who join health clubs could work out at home, but they don't. They only get it done (or maybe stick with it better) when they are among others who are doing the same thing, facing the same challenges, working toward the same goals.
Maybe some people just feel the need for more structure in their approach to writing, even if it is an artificial and arbitrary structure with no real consequences or rewards.
Haters will tell you NaNo is bad because there are enough bad books out there already and we don't need more. That may be true, but there is a flaw in that reasoning. There are already too many good books too. Even if only good books existed, there would be too many for any one person to read in a lifetime. In fact, even if only one flawless book existed, I can assure you there would still be people who hadn't read it.
I don't hate NaNo. It's just not for me. I don't think it's bad for literature, but I also don't think it's all that good for writers. You know what would be really good for writers? National Novel Reading Month.