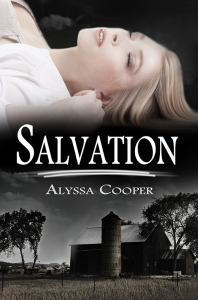 Today we have a sneak peek from Salvation, the
paranormal romance novel by Alyssa Cooper.
Alec is a troubled young man struggling to accept the brutal loss of his parents. When he meets Maya, a girl determined to change his life, he finally begins to crawl towards the light.
But Maya is not what she seems.
She is a vampire, changed by the man who has been her guardian angel, father, and lover – but who is also her greatest enemy, putting them both in mortal danger. Together, they fight for survival, each desperately seeking salvation.
This book is available from Amazon US, Amazon UK, and Barnes & Noble.
Here is a book excerpt from Salvation…
I didn't realize that I was crying, but now, I can see the drops falling on her pale skin. I can't hear my own cries, although my throat is ripping open. My entire body is shaking with my sobs, but my head is full of her labored breathing, her stuttering heartbeat. My own chest is empty. It was torn open and hollowed out the moment that she started to bleed. Her eyes have slipped closed, and I doubt that my heart will be returning.
I pray that I may go in her place. I beg to die if she can live, although I know that it's already far too late. God is not here.
Please don't die, I ask her wordlessly, please. You can't leave me, not yet, there's still too much we need to experience. Please. Please don't die. Not yet. Not now, this is all happening too fast.
My head is pounding, a tightening behind my eyes as I fight the tears. I want to speak to her, maybe she will listen if she can hear my voice, but I can't force the words past the swollen knot of pain in my throat. I keep screaming with my mind, begging; praying. Please, don't leave me here, not like this. Not now. Move slower. Stay longer, please, just a moment longer. My arms are shaking. I want to hold her. I ache to pull her against my chest, but I know that I will only hurt her even more, and no matter how badly I need the comfort, I can't do that.
I'm afraid to touch her at all, but God, I can't stop myself.
I run my lips over her face, over her delicate little features and her cold, shivering skin. I draw in the details, I try to memorize her. She's so beautiful that I can hardly breathe, oh God, I can't let her go. I clutch to the parts of her that are still real. I am careful to avoid the blood. Opening my mouth over hers, I swallow down her pain in all its glory. I need to taste it. I need to run my fingers through it. This is all new to me, so unfamiliar. I need it to last longer. I need more time, more details, another chance. I need her to stay, to tell me what I'm feeling, because I'm lost without her guidance.
I cannot fight the tears. I am no longer deaf to my own soul shattering sobs.
I lay down against her shoulder, tucking my head under her chin, pressing my cheek against her soft neck, my lips against her sharp collarbone. I close my eyes, as if I can hide from this nightmare, as if I can drift into the past, and wait. I lace my fingers through hers. I have to wait. I can't let her go. Not yet.
My heart doesn't know how to break this way.
---