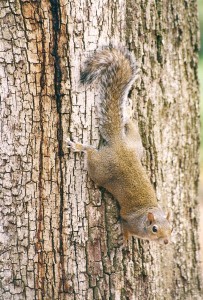 I'm Buck Bushtail, squirrel detective. I'd been hired by gorgeous Foxy Redfluff to track down a prize acorn someone had nabbed.
I'd been running my paws ragged looking into every hole in every tree in the forest. I was afraid I'd lost the scent, when a little bird told me he'd seen something suspicious over at the dam.
Those are some busy little beavers over there. I thought I'd investigate. Little did I know there was an eagle who'd been watching me like a hawk. It seemed I'd picked up a tail. I mean an extra one…
In 250 words or less, tell us a story incorporating the elements in the picture. The 250 word limit will be strictly enforced.
Please keep language and subject matter to a PG-13 level.
Use the comment section below to submit your entry. Entries will be accepted until Tuesday at 5:00 PM Pacific Time.
On Wednesday afternoon, we will open voting to the public with an online poll for the best writing entry accompanying the photo. Voting will be open until 5:00 PM Thursday.
On Friday afternoon, the winner will be recognized as we post the winning entry along with the picture as a feature. Then, at year end, the winners will be featured in an anthology like this one. Best of luck to you all in your writing!
Entries only in the comment section. Other comments will be deleted. See HERE for additional information and terms.