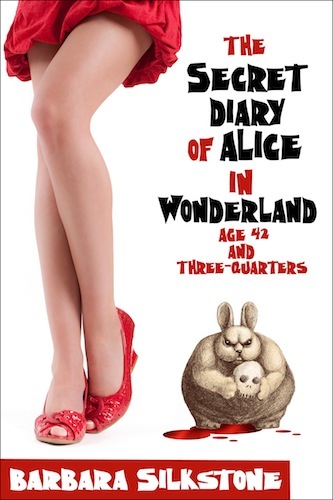 The Secret Diary of Alice in Wonderland, Age 42 and Three-Quarters
by Barbara Silkstone
Genre of this Book: Comedy Mystery
Word count: 52K
Miami real estate broker and terminal anglophile, Alice Harte, falls for the wrong White Rabbit. Nigel Channing is an international conman with a gift for crafting Byronesque emails. He sweeps Alice off her feet and down a rabbit hole laden with mugs, thugs, and be-headers. Will Alice be able to keep her head when all about her are losing theirs? Are the cards stacked against her or will she find true love? And how will she untangle her pantyhose in the courtroom?
This book is available from Amazon and as an audiobook from Audible.com
Barb, how did you come up with the title for your book? Does it have any special meaning? 
Alice Harte and I are soul-sisters. Both of us have paid the price for our naivety and belief in good trumping evil. At 42 and three-quarters we should have known better but we both fell for a Byronesque Brit while being pursued by a rich possessive employer.
Who was your favorite character and why?
Kit Kennedy is Alice's best friend and the reigning drag queen on Miami Beach. He rescues Alice from the clutches of a corrupt lawyer in a very funny La Cage aux Folles stunt. Every woman should have a BFF like Kit.
Does your book have any underlying theme, message, or moral?
Absolutely. Be careful what you wish for!
What would/could a reader or reviewer say about this book that shows they "get" you as an author?
It's witty, fun, quirky with a great dose of mystery, romance, and comedy combined. I was brought up with John Cleese, and his sense of humor, so the Brit lothario Nigel Channing absolutely nails it for me.
Give us an excerpted quote from your favorite review of this book: 
"Barbara Silkstone, in her thriller interwoven with quotes from Alice; characters based on Lewis Carroll's originals; and a heroine, Alice Harte, who has all the original Alice's naivety, intelligence, and trustful expectation of good things to come, gives us a modern update of the classic which is packed with wit and excitement on every page and full of excellently drawn characters."
Where can people learn more about your writing? 
http://barbswire-ebooksandmore.blogspot.com