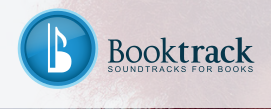 The book, as we know it, has been around for a very long time.
Here in the West we date printing from roughly 1440 when Gutenberg invented the printing press, however the Chinese invented movable clay type even earlier – in 1041. So that's about 1000 years of print.
That long tradition of print on paper was broken long before the invention of the Kindle – think about reading, and writing, on personal computers – but mass market books that do not rely on paper most definitely date from the introduction of the Kindle.
None of this is news to us. One way or another, none of us would be self-publishing if not for the Kindle, and Amazon. But now that we've made the leap to non-paper books, we have to accept that the changes have only just begun. Print lasted for a thousand years. Ereaders are changing every year, and taking the whole idea of books along with them.
One new innovation I discovered recently is something called Booktrack. .
The video clip is a demo of how Booktrack works. The technology is still in its infancy, and currently only works for books you read in your Chrome browser, but Pandora's Box has been opened, and the possibility of adding music, and sound effects to ebooks is now very real.
As someone who writes speculative fiction, the idea of Booktrack delighted me at first. In my head I pictured some reader thrilling to Two Steps From Hell as they read my sci-fi novel. What a great way to add extra emotional depth to my words!
But then I started having second thoughts. Epic, instrumental music makes me weep [in a good way], but country other kinds of music can literally make me cover my ears in pain. Clearly, good writing music is not necessarily the same as good reading music. But still…
To resolve this issue, I asked readers of my blog what they thought, and almost every single comment was negative. Most people said they preferred to read in peace and quiet. Some said that if they wanted a soundtrack they would watch a movie, or listen to their own music. Others queried more technical aspects, such as what would happen to the music if you went back to re-read a passage, or stopped to think about something you had read, etc. No one jumped up and down in excitement, not even my twenty-six year old daughter.
Nonetheless, something keeps me thinking about Booktrack, or at least technology like it. All of this stuff is new, just as moving pictures were once new. Back in the days of silent movies, no one could have predicted that the piano tinkling away in the background would one day become the precursor to the movie soundtracks we now take for granted.
Booktrack may not be the tech of the future, but I believe some other tech will be.
The book, as we know it, has been around for a very long time, but now the times are a-changing and we have to change with them, or at least keep an open mind.
Is there any tech you would like to see in books?