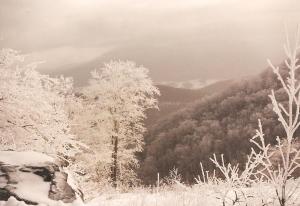 For whatever reason, the general put a lot of stock in the old wizard. I was never one for ancient superstitions and parlor tricks.
To me, battles are won by strategy, force of numbers, and iron will.
But the general would not even begin a campaign without the wizard's counsel.
He had persuaded the general that the weather would favor our victory. On this assurance alone, we had proceeded into Thrax territory in the late fall. Now the water kegs are frozen solid and the horses are dying.
I heard Captain Manx crunching through the brittle, thin snow behind me. "Looks like you were right. It was too late in the season to begin a campaign in the North," he said, through chattering teeth.
I could not keep the bitterness out of my voice as I replied, "Being right is cold comfort to a dead man."
But the gods play funny tricks with both weather and war…
In 250 words or less, tell us a story incorporating the elements in the picture. The 250 word limit will be strictly enforced.
Please keep language and subject matter to a PG-13 level.
Use the comment section below to submit your entry. Entries will be accepted until Tuesday at 5:00 PM Pacific Time.
On Wednesday afternoon, we will open voting to the public with an online poll for the best writing entry accompanying the photo. Voting will be open until 5:00 PM Thursday.
On Friday afternoon, the winner will be recognized as we post the winning entry along with the picture as a feature. Then, at year end, the winners will be featured in an anthology like this one. Best of luck to you all in your writing!
Entries only in the comment section. Other comments will be deleted. See HERE for additional information and terms.