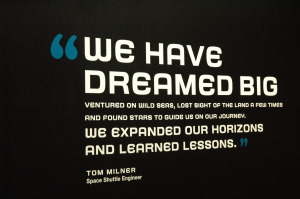 We're three weeks from the new year! Wow, where did the year go? Now is the perfect time to reflect on the past year and appreciate everything that you have accomplished. It's time to rejuvenate, refocus, and start planning for next year. Taking inventory is a great place to start. Write down the changes that took place and things that you accomplished in the past year. It's fun to go through this exercise—often, you don't realize all the things that you achieved in the past year until you see it in list form.
How many seeds did you plant throughout the year? This is a marathon and it's important to pat yourself on the back, not just for the big goals, but for the groundwork that you've put in place for the future.
Now, turn to 2014 and think about what you want to accomplish in the coming year. It's estimated that only about three percent of the people in the world actually plan and write goals. With those numbers, it's no wonder so many flounder and drift through life. I've written about goal setting in the past and you can find some nuggets for helping you through the goal process here.
Today I want you to ask yourself some general questions that will help you define your specific goals.
1. What do you want to create in both your personal and professional life in 2014?
2. Ask yourself why you want the things you listed in #1 and how would it change your life?
3. What have you learned about yourself over that past year? List three things that you will do differently in 2014.
4. List three things that you need to STOP doing in 2014.
5. What relationships do you need to work on? Who might help you reach your goals? Martin Crosbie does a great job talking about this in his book, How I Sold 30,000 eBooks on Amazon's Kindle. You might want to put "read Martin's book" in your goals if you haven't already.
Finally, you can write thousands of goals, but if you don't want it bad enough, you might as well expect mediocrity. It's time to change. WANT it enough to take massive and decisive action in 2014. Treat your writing career with the attention it deserves. Take time this week to focus on your future. Don't wait until December 31st to jot down a few goals. With these easy steps, you can guarantee yourself that 2014 will be everything you want it to be.