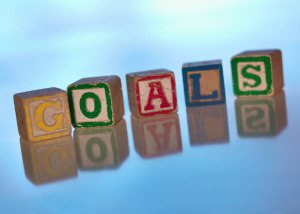 I've met a ton of great writers since joining the staff of Indies Unlimited. As I become more involved in the writing world, I realize how tough it is to keep on track with my WIP. Whenever I find myself spending less and less time writing the sequel to The Card, I go straight back to the basics.
Write SOMETHING each day.
It doesn't matter how much, it doesn't matter about what, or it doesn't matter if you will ever use the material. Get your characters doing something and eventually they will take over and lead you in the right direction.
That momentum that you establish by writing something each day helps you be a better writer. It helps you connect with your characters better and forces you into the zone.
As soon as you develop the habit of writing every day, it is important to adjust your goals. In the beginning, writing something daily may have been a worthy goal, but now the stakes have changed. You need to push the limits with the goal setting.
Set a word goal to achieve daily. I always used 2,000 words. It would take about two hours to hit that mark. I would just let the words flow out of my head like water out of a fire hydrant. There will be plenty of time later to make revisions.
Does it matter if you hit your goal each day? Of course not, some days I would only get to about 1,200 words in the two hour period. The next day I might crank out 2,500 words. If on most days you are hitting your goal, then you will be well on your way to completing your novel.
You need to decide what a great goal looks like for you, whether it's 500, 1,000, 1,500 words or more is up to you. Make it attainable. Decide realistically how much time you can invest in writing and use that as a gauge.
Finally, write it down. Imagine, a "writer" writing it down! Once you write down your goal, it becomes more than an idea, but a real goal, a goal that you can accomplish daily. You'll feel better by achieving your goal and it gives you an endpoint to stop with and not feel guilty.
You can summarize your writing goal process like this:
SMART
S – Specific … work on a particular chapter or scene
M – Measurable … word count to hit
A – Attainable … Be sure that it works in your schedule, set aside the appropriate hours
R – Realistic … you can't write 10,000 words in two hours
T – Timely … Put a time limit on the process
With a little planning, you can take the frustration out of your WIP and start moving forward in leaps and bounds.
Good luck!
*     *     *     *     *
Jim Devitt is a Contributing Author for Indies Unlimited. The author of the #1 Kindle Bestselling novel, THE CARD, has recently moved on to the second round in the Amazon Breakthrough Novel Award competition. For more information, please see the IU bio page or his blog:  http://jimdevitt.blogspot.com/  [subscribe2]