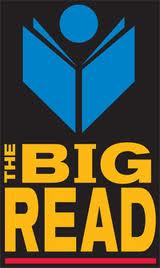 In the next few days, intrepid teens in a variety of towns across the US will bust into a variety of flash mobs. They won't be break-pop-locking or singing parodies of "Call Me, Maybe." (Even though this one was kind of cute.)
They plan to recite poems and stories by Edgar Allen Poe.
Kids will also roam graveyards, armed with flashlights and blankets. They'll hold mock book-burnings. Without force, bribery, or threat of a failing grade, they will gather in groups to discuss the social ramifications of To Kill a Mockingbird. And in New Hampshire, they will debate the possible exoneration of Lizzie Borden, and if she did or did not take up that axe and give her mother forty whacks.
Is the Zombie Apocalypse finally upon us? No. These are only a few of the hundreds of events that will be taking place all over the United States this October as part of the National Endowment for the Arts' Big Read program. Responding to a disturbing 2004 report that kids are slacking off on reading, the NEA started The Big Read to get not just schools and libraries but whole communities involved in growing a love of literature.
Participating communities across the country have chosen a book from the NEA's suggested reading list, which includes classics like The Great Gatsby, To Kill a Mockingbird, My Antonia, Fahrenheit 451, and The Grapes of Wrath. In case you were thinking this sounds like a rather stuffy will-this-be-on-the-test type of affair, also on the list are relatively contemporary favorites like Amy Tan's The Joy Luck Club and In the Time of Butterflies by Julia Alvarez.
My community has chosen The Maltese Falcon by Dashiell Hammett. Which is ironic, considering that we've just concluded Banned Books Week. Hammett's refusal to succumb to Senator Eugene McCarthy's Communist witch-hunts led to the banning of his books and a jail sentence. To explore this, and Hammett's unwitting role as forefather to a wickedly popular literary genre, our community will hold public discussions about politics and blacklisting, screenings of the film version of the novel starring Humphrey Bogart as Sam Spade, and lectures about the history of hard-boiled detective fiction. I already have my copy and I'm psyched.
To me, this program is about the coolest thing to happen to kids and books since Harry Potter. It gets people reading while tying communities together. Different generations will get a chance to talk about the bigger issues of these books—war, poverty, racism, religious intolerance, censorship—in a forum that engages critical thinking skills and lets young minds explore what they would do in similar situations as the characters. Instead of letting kids devolve into couch zombies, they're learning. Which I think is one of the most powerful and important aspects of the world's body of great literature. Through reading, we learn what life is like behind someone else's eyes. Which can go a long way toward making the world a better place.
Corny, yeah. But still pretty cool.