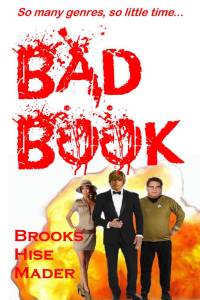 The name's Case. Just Case, that's all. He is a man among men and therefore no first name is needed.
Women want to smack him – men want to smack him, too, just harder. Join Case on his epic travels through multiple literary genres as he ruins horror, space-adventure, noir detective, spy-thriller, westerns, classics of literature, pop culture icons and more with his own unique panache.
Never before has a spoof conquered so much with so little.
Bad Book, the bawdy spoof by authors K. S. Brooks, Stephen Hise, and JD Mader, is available from Amazon, Amazon UK, Smashwords, and Barnes & Noble.

Don't forget, you can cast your vote for trailer of the month on March 29, 2014 at 5 p.m. Pacific time.