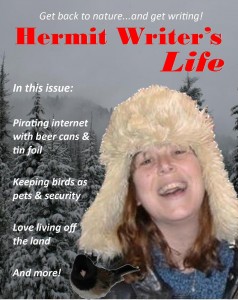 Is this you: You really, really want to write that novel, but you can't manage to do it while working for the man. Your writing is calling you, and you feel tormented. You want to sell everything and move to the middle of nowhere to answer your authorial calling. You'd make the move to writing full-time in a heartbeat if you just knew how.
Well, look no further! Hermit Writer's Life Magazine has just launched, providing authors just like you with the information needed to make that move. Each monthly issue is packed with tips for the novice hermit-in-training to the old pros who are looking for new and interesting ways to keep things comfy.
Our staff of successful and experienced hermit authors will provide you with the tools you need to:
Find remote properties on which you can squat
Start fires without matches
Keep food without refrigeration
Recharge your laptop using homemade solar panels
Pirate internet service to upload your manuscripts
Identify animals which may try to eat you
And much, much more.
So don't put off that move any longer! Follow your dream now! Subscribe to Hermit Writer's Life Magazine today, and as a bonus we'll send you the Wilderness Weight Loss Guide for free! (additional shipping and handling charges apply.)