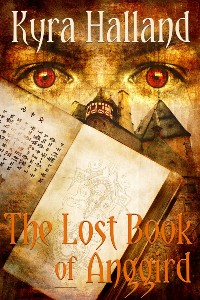 The Lost Book of Anggird
by Kyra Halland
Genre of this Book: Fantasy
Word count: 130,600
For Perarre Tabrano, who intends to live her life as an independent woman, the chance to work as a translator of ancient books for the renowned Professor Roric Rossony is an opportunity she can't pass up. Professor Rossony is as famous for his difficult personality as he is for his scholarship, but there's far more to him than meets the eye, and Perarre quickly finds herself fascinated with her employer.
Professor Roric Rossony is the Vorunne Dominion's greatest expert on Magical Balance. He has been entrusted with the vital task of discovering what is going wrong with the Dominion's powerful magica. With Perarre's assistance, he begins investigating the origins of the magica – and finds that truths taught for hundreds of years might not be true at all.
Then Professor Rossony goes too far in his research, digging into lost and forbidden books. Magical disaster strikes and he is transformed overnight from respected scholar to the most-wanted criminal in the Dominion. Together, he and Perarre embark on a journey to discover the roots of an 800-year-old conspiracy, a journey that will change the way magic works, and their own lives, forever.
This book is available from Amazon and Smashwords.
Kyra, how did you come up with the title for your book? Does it have any special meaning? 
The title refers to an ancient book that's at the heart of the story, which contains the key to solving the mysteries surrounding the origins of magic – as well as something completely unexpected!
Who was your favorite character and why?
I love Perarre, but Professor Roric Rossony is one of my all-time favorite characters. Crusty and unpleasant on the outside, soft and sweet on the inside. He's a complicated, multi-dimensional character, and even in the later stages of revision I was still learning new things about him.
Does your book have any underlying theme, message, or moral?
The importance of freedom of thought and learning, and the healing, redemptive power of love.
What would/could a reader or reviewer say about this book that shows they "get" you as an author?
The romance between the main characters and the fantasy storyline are both essential to the story; if you took away either one, there wouldn't be a book.
Give us an excerpted quote from your favorite review of this book:
"The author has done a stellar job at painting for us who Perarre and Roric really are: how they live, their fears and aspirations, the parts of themselves they're ashamed of, and their courage." – Antonio Simon, Jr.
Where can people learn more about your writing?
http://www.kyrahalland.com