Last Friday, Kat Cantwell introduced us to Tumblr, where all the young'ns hang out. So how about we show those young whippersnappers our awesome books? They don't know what they've been missing. We just have to figger out how to use this newfangled Tumblr thingie. Honestly? It's easier than WordPress or Blogger. Let me show you why.
The first thing you need to do is go to Tumblr.com and set up an account. It's super fast (they're not kidding).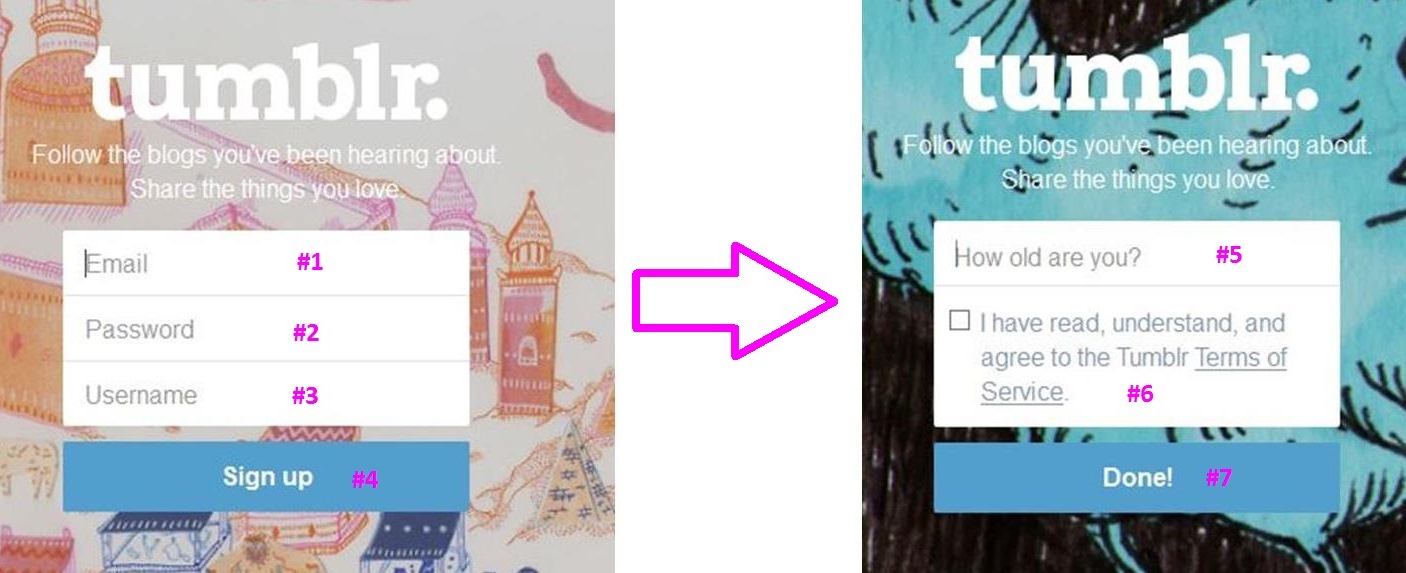 Just follow the steps above – #1 through #3, then click Sign up (#4). That will bring you to a new screen where they ask – oh no, not that – your age, and to read the T&C. Then click Done! (#7) and you are signed up. You'll receive an email asking you to confirm your membership. It's that simple.

The next screen you'll see is the preliminary set-up screen for your blog. Just enter numbers 1-3, then click Make it (#4) and you'll get the screen to the right (above). If you're happy with that, click Make it.
Now comes the hardest part of the process: Tumblr wants you to select three blogs to follow before you can start blogging. On the right-hand side of your screen, Tumblr will suggest some trending blogs for you (#1 below). If that's not your cup of tea, you can type a subject into the search box (#2 below).

Being a curmudgeonly hermit, I like wilderness, so I searched on that. A bunch of results came up, and I selected the top one, "Hipster in the Wilderness," which now has a green check mark next to it. (Note: One thing to keep in mind is that this site is NOT always Safe for Work. If that is an issue for you, pay careful attention when selecting the blogs to follow. You may end up with a bunch of cuss words and risque images on your screen.)That was my third blog, so now we can click Next step (underlined, above).
In the next screen, Tumblr will ask you which app you'd like. Since I don't have a phone smart enough to use apps, I clicked I'll get it later which is the bottom choice.
That will now bring us to the dashboard. You can see the posts of the people you're following in the body of your dashboard. At the top, you can see the different types of posts you can make. I thought this was super convenient, because a lot of times, I just like to post photos. So, I clicked the camera icon (under the pink arrow, image below).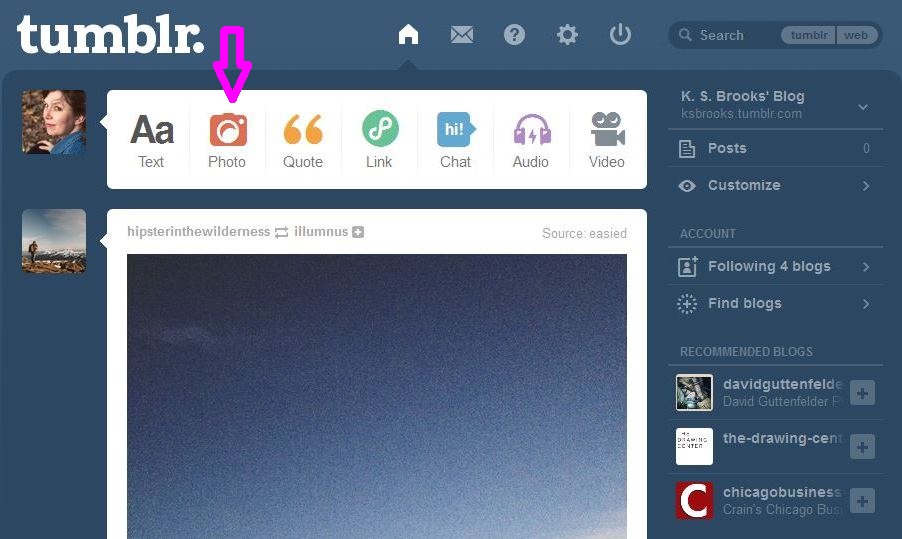 That opened a screen that wanted me to upload photos. I selected five. Uploading multiple photos was extremely convenient.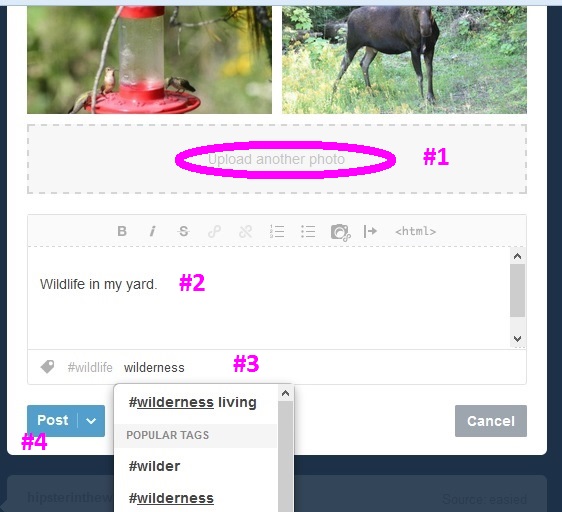 If I wanted to upload more photos, I could, at #1. I wrote a brief description at #2, then selected some tags in #3. Then I pressed Post (#4). Done! So easy.
If you'd rather write a post, click the Aa at the top of your dashboard and a screen will open for you.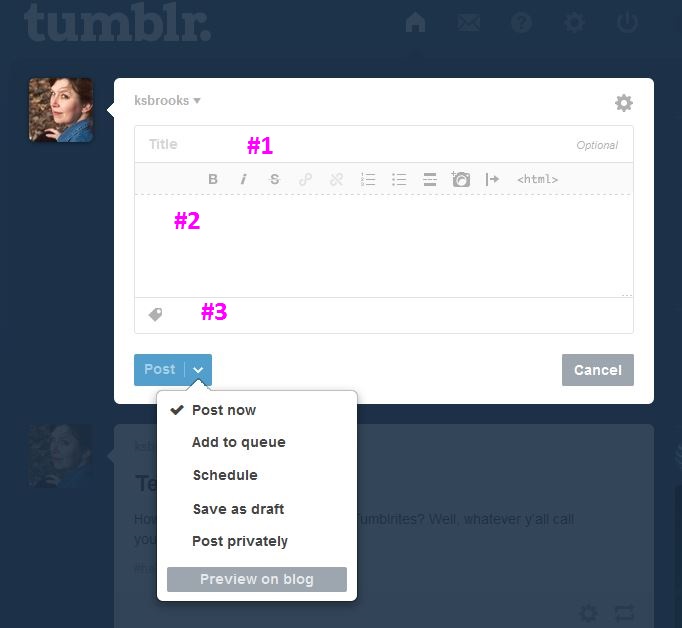 Type in your title (#1), your body text (#2), add pictures if you'd like, enter your tags (#3), and then BE CAREFUL. The only thing about Tumblr I do not care for is that the CANCEL is where you would expect to find the POST button, on the right. If you click the dropdown arrow next to Post, you will get a number of different options. Very convenient. If you're good to go, just click Post. And you're done. It's that easy:

The best thing I like about Tumblr is how easy sharing is. Just go to the bottom of this post (okay, or any post, but really, you should do this one to show your appreciation to me for all the awesome things I do for you for free…), and click the dropdown arrow next to the share button. A tiny new window will open. Click the t for Tumblr.

That will open a new window for you, with the title and link to the article already filled in. All you have to do is type in your description (if you want – #1) and then click Create post (#2). It is that easy to share a post and create content for your blog. See published post below.
Of course, as with WordPress and Blogger, you can customize the look of your blog. I found it a lot easier to do on Tumblr than it was with either of those. Now I know why all the hipsters are on Tumblr. It's slick, fast, and easy. We can go into customizing your blog at another time, if you want. Right now, this old girl needs a nap.
Now get your Tumblr blog set up – tomorrow we're going to have a follow-fest!