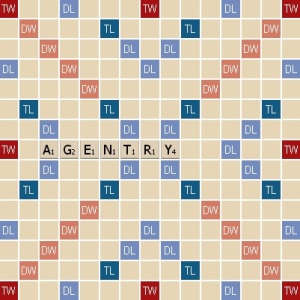 The world of agentry is changing. And, before you start on me, I scored 78 points in Facebook Scrabble with AGENTRY so it's a word, ok? Time was, you got an agent, you were on your way. They loved your book, reckoned it would sell and worked hard to pitch it to publishers for you. They did that because it was how they got paid. And some still do.
Any agent worthy of your consideration will tell you that their belief in your writing is the thing that will lift it above the slush pile, but then they would, wouldn't they? They may be right, but many agents who aren't worthy of your consideration will tell you the same thing.
Before you sign on the dotted line and start telling your friends that you are traditionally published because you have an agent, and that's just better, listen up. Here are three stories to add to the less-than-ideal experience Melissa Bowersock described for us last month. I will present them as 'a friend's neighbour told me' just in case the person concerned is reading IU but off the record, only one of them is friend of a friend, the others I watched unfold…with my mouth zipped shut.
Story 1: A chap wrote a children's book. He pitched it to many agents, most of whom told him that children's books are a tough genre to break in to, the book needed some work and he'd stand a better chance with a series. Then one agent told him he loved the book. For a not inconsiderable sum of money, he would represent it to publishers. Did you spot the red flag? What do you suppose happened next?
Yes, the agent banked the money, sat about for six months and then advised the author to self-publish, because these days publishers like to see whether you get any sales on your own.
Story 2: A great piece of crime fiction, beta readers love it. The author wants the recognition of trad, so there was much joy when an agent took to the book and agreed to represent it. No money changed hands, this is a pukka agent. But first, the book had to be cut down to a specified word count. That was agony. Then more had to change. The story is no longer the one our writer wanted to tell but that's okay because she will be traditionally published. She has just celebrated her first anniversary of having an agent…
Story 3: A writer whose agented Trad Pub credentials inspire her to look down on mere indies. But here's the thing. Her 'agent' placed the book with a publisher he had 'connections' with. The publisher then charged a fee. That's vanity publishing, right? Even if the pimp put 'Agent' on the office door.
I know that a few anecdotes don't make a trend but last month The Bookseller published an article on a growing trend for agents to recommend vanity publishing. It quotes the Society of Authors advising writers to "find out 'exactly what interest' an agent has in any company he or she recommends." The president of the Association of Authors' Agents then opines somewhat obliquely (if you read between the lines) that maybe it's ok to start taking money from authors instead of publishers. Agents have to eat, I suppose, but it's hardly traditional.
I'd love to be trad pubbed, (don't tell the EM though, I might get left out of the next gruel round) and I'd love to be able to drop the phrase 'my agent' into conversations. But I've actually got something better than that. I've got readers nagging me to write the next book for them.
By all means look for an agent, the real ones do great stuff. They know about contracts and royalties and copyright. They are invaluable, if not essential, if you are lucky enough to have something optioned for a movie, or if you have complex international rights issues going on. If you do get snapped up by a traditional publisher and want to go for it, an agent will protect your interests and make sure you get the best deal going.
But…
If they want your money they are not a traditional agent. If they recommend a publisher who wants your money, this is not a traditional publisher. Do your due diligence, find out who is in bed with whom and follow the money before you sign.
And only look down your nose at Indies if you haven't been conned.